[FONT=arial,helvetica,sans-serif]

When Chickens Dream

[/FONT]

​
My brother and I went together and bought some chickens. Started out with 50 peeps - 30 laying chickens and 20 meat chickens ordered from Farm Bureau. We got the meat chickens. Decided to order some peeps from Murrey McMurray. We ordered 25 brown egg layers with a surprise chicken thrown in. The peeps from McMurray came on Mother's Day. What a great present. They were so cute.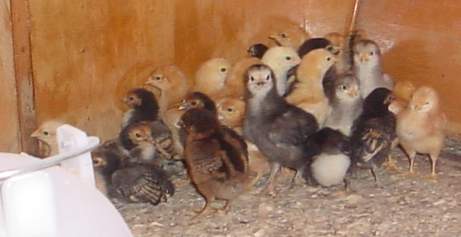 ​
We processed the meat chickens and we ended up with 62 chickens (6 are banties, 10 white Jersey, 2 comets, 4 bramas, 28 mixed ?, 3 Delawares, Popcorn (nephew's meatie), 3 black Jersey, Buffy (buff orpington), Andy (blue andalusion?), RIR, 2 unsure of breed. Sadly, Popcorn died the beginning of August so we are now at 61 chickens (5 roosters and 56 hens).
At the same time, my brother ordered 6 meat turkeys. They arrived in July.
Now I don't know what we'd do without chickens and turkeys. He lives about 12 miles from me and I visit the chickens as much as I can. I just enjoy watching them. Here is an updated picture.


My brother ordered the shed and we added the screened-in run. They really seem to enjoy it.

Whoo hoo, lookey what we got today - 8/31/09.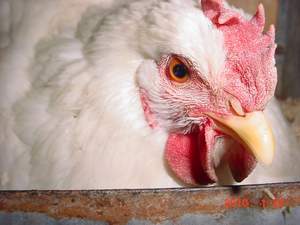 Not a happy chickie at egg gathering time.
The white egg is a store bought large egg. The one next to it is the first egg we got on 8/30/09. The next 3 eggs we gathered today 8/31/09. Only the small one on the far right was laid on the ground. All the rest were in next boxes.

On 10/14/09 I ordered 25 Easter Eggers from McMurrey's. They arrived 10/16/09. Happy little peeps plus an extra rare breed peep. They are all doing great. So now we have 87 chickens.
Here is a picture of some of the new peeps.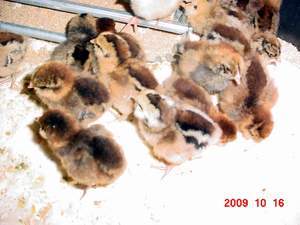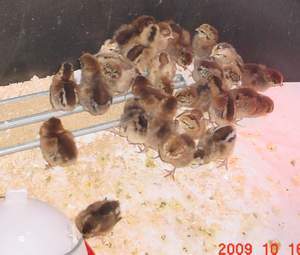 On February 14, 2010 we put 24 eggs into the incubator. On 2/19/10, Karissa dropped an egg while turning them. Candled the remaining eggs. Looks like we have 18 little peeps progressing, with 5 looking clear. Will wait till day 10 and recandle and decide what to do then with the 5. We all keep wondering what they will look like. It is so hard to wait till 3/6/10.