To-Do:
Run placement: Under the back deck! Needs to be enclosed, only framing that will need to be done is for a door on one end so I can get in to feed/water/care for them!
Build a coop! I got 10 pallets for free today (1/16/11), so I'm halfway there! Also, picked up 2 pallet crates, so with a little modification and a few more boards, the walls are done too!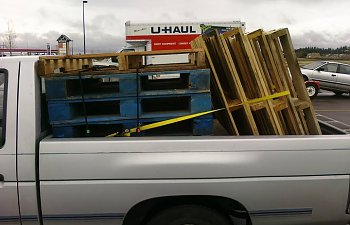 Picked up 4 concrete blanks with brackets (1/29/11) to make them into adjustable piers for the pressure treated 4x4's that the coop will sit on, time to get building!
Turn Plastic Tote into Brooder Box - Still need a grate for the hole in the lid. I got a 45-Gallon Plastic tote that "locks" (the green parts of the handles fold over & lock in place) and it's has wheels on one side of the bottom so I can easily move it if I need to. The Hardware Cloth is being shipped, should be here around 2/8/11!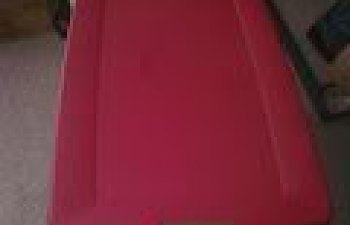 Purchased a Heat Lamp and Red Bulb @ Aslin-Finch! (1/29/11)
Thermometer! Cheap and easy to get, just need to rememebr to get it.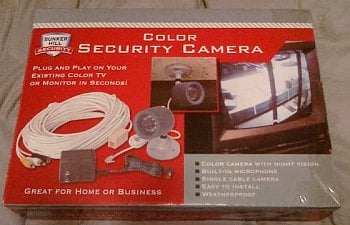 I got a new toy! Color Security Camera with Nightvision and sound! This was on sale for $25! We went in expecting to pay $30 as we had a coupon, but they were on sale for even better.

I had my choice between RIR, BO, SLW, BR, and a sex-link (either Golden or Black). The EE's won't be in until mid-April, so no green eggs for me.

Oh how I wish I could get one of each!
I made my chick choice! I'm getting 2 SLW and 1 BR!
Yes, I know they'll all look about the same...black and white, but Aslin-Finch won't be getting their EE's in until mid-April! I can't wait that long! Mine will be coming in on March 16th (ish)! Today (2/1/11) is the day to start ordering chicks at Aslin-Finch! I actually ordered mine on Saturday, but that was only because the nice women working told me I could rather than having to come back today!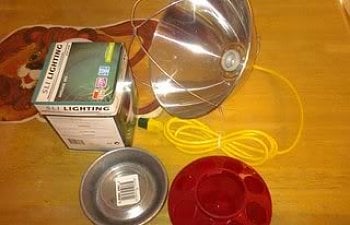 I picked up some chick supplies today (1/29/11) too.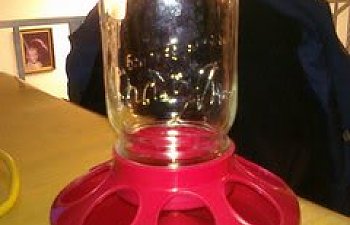 The waterer is galvanized metal...when they go into the coop, I hope to have a nipple system installed.
After the chicks have grown into the coop outside, the plastic tote will house their feed/grit/oyster shell/first aid kit in the coop. (Will cover the open "grated" area to keep poo and such off the feed) Or...I may just sell it to recover a little of my $ and buy them a brand new tote for their feed!

So before the snow started flying again...I did get part of the coop built! That's "all" I have done...I'm needing to wait on better weather to get out there more. It's snowing & raining today (3/1/11) so it won;t be today, lol. I put vinyl tiles down before the crates went on, so the vinyl runs across the entire floor, including under the framing! Based on # of tiles used...this thing as more square footage than my master bathroom!
Also...
READ Raising Chickens for Dummies! Currently on page 274 (3/5/11)...I promised myself I'd read the whole thing cover to cover. I skipped the part about incubating eggs...I have no plans to hatch eggs at the moment.
I really need some nice dry, WARM weather so I can get done...
Plans for coming weeks (3/1 & beyond): Need to install the 100' roll of hardware cloth to make the brooder top and start the outdoor run. The area we are enclosing is approximately 10.5'x13'! We have some 2"x4" welded wire (already here from former owners), we will use it at the top portion of the run and wrap the lower half in 1/2" hardware cloth. Whatever the larger mesh won't cover will get the hardware cloth, including the door I need to build. We may need 2 rolls of the 100' length!
Since we're building so close to the house, I'll have electric from the outdoor outlet (it will actually be located inside the run)! That means the gals will get a small fan in the summer and a little heat/light in the winter!