[FONT=comic sans ms,sand]
Hi everyone.
[/FONT]
My Name is Debbie and I am a critter-o-holic! I am addicted to my farm.
This is my rooster "Pimp Daddy Roster"
and my first hen... Henrietta
[FONT=comic sans ms,sand]
This is me and my first goats.. Sharabelle and her baby Angel
[/FONT]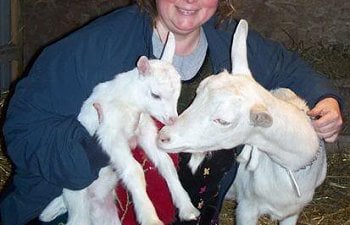 [FONT=comic sans ms,sand]
My dream has been to have a farm of my own eversince I was a little girl growing up on a farm.
I always wanted as many animals as I could get, and after many years of living in town, raising my kids, I am finally living my dream.
I am married to a wonderful man named Wes for over 5 years now and we bought a little farm and started collecting animals.
[/FONT]​
we now have 3 beagles, 2 miniature donkeys,and a baby donkey named poncho, 14 guineas, about 100 chickens, a few roosters, and 2 ducks. also 6 cats, and a european fallow deer
New additions... I have a horse, liza jane a 4 1/2 year old paint mare. Also the tally on goats now is 11, 10 girls and 1 billy goat.
​
I also decorate cakes at walmart in lincoln illinois. I love my job. I even make little farm animals at work. I guess I am addicted!!!!