If this is your first time on BYC, we suggest you start with one of these three options:

Not a member yet?

join BYC here

& then

introduce yourself

in our

community forum here

.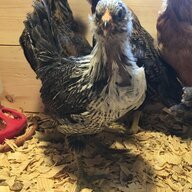 Location:

Occupation:

Artist
coopintheburbs
Chirping, from Texas
Back after hiatus. Teenage chickens plus work plus school makes Coop a busy chicken lady. May 7, 2018
coopintheburbs was last seen:

Jun 22, 2018
Loading...

Loading...

About

Location:

Occupation:

Artist

Real Name:

Tilly

What's your main reason for joining our community?:

New chicken mama looking for a like-minded flock :)

I decided to raise chickens after tasting my first fresh egg and getting to know some chicken keepers in my area.

After months of planning and preparation, February 7, 2018 we recieved our first flock from Ideal Poultry! 10 Day Old babies: 2 Buff Orpingtons, 2 Ameracauna, 2 Barred Rock, and 2 Welsummers. Due to 13 extra packing peanuts being shipped along with, we ended up with 2 mystery chicks and new friend that adopted the other 11!

Wish us luck!

Interact

Loading...