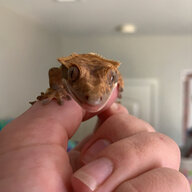 Loading...

Loading...

About

Gender:

Female

Location:

What's your main reason for joining our community?:

Both sharing my chicken knowledge by helping others with theirs and getting answers to all my questions to keep a healthy flock!

Hey everyone. I'm a wannabe country girl living in the middle of the big city with my little backyard flock. I'm a long-time lurker and now I'm on here way too often for my own good.

I like to pride myself in bringing humor out of everything and, in unrelated news, also being fairly good at recognizing breeds and sexing chickens.

I'm about equally on the educational side of BYC (chickens, breeds, etc) as I am on the "recreational" side (role-plays, chat threads, etc) because the only time I'm ever social is online. Anyone who knows me irl can confirm that for sure!

Thanks for stopping by my page and check out some of my followers as well as the people I follow, there are some really amazing, helpful people on there to help you on your trip into chickeneering.

Bai.

~Dawnclucks22

Interact

Signature

The inner mechanisms of my mind are an enigma

Loading...