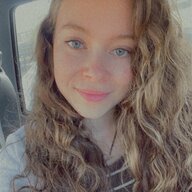 Birthday:

February 7

Location:

Occupation:

Praisin the LORD! (Or goofin with my BYC besties)
Loading...

Loading...

About

Birthday:

February 7

Location:

Occupation:

Praisin the LORD! (Or goofin with my BYC besties)

Real Name:

Crazy animal girl!! :D (Actually, it's Destiny)

Website:

https://sites.google.com/site/wwwidonthaveawebsitecom/

What's your main reason for joining our community?:

I joined when I got my first batch of ducklings in the mail to learn as much I could. Every time I look something up about chickens etc, BYC comes up! I'm always "drinking in the knowledge". And all of the members here are AMAZING!!! I would hang out here instead of any other social media any day!

I LOVE animals (anyone who doesn't is a weirdo, am I right?). That pretty much sums me up I guess . . . Oh, and I LOOOVE Jesus, too. And the trees . . . and the wind . . . and the sky . . . . . . .

I might seem "stiff" to a stranger, but become my best friend and I will chatter about chickens all day. Calm and impassive I am, but show me baby duckies and I become a squealy little girl.

I will do anything in my power to help people and animals in any way I can, and NOTHING can stop me from trying.

And I can also be a goofball if someone gets me goin'

(sure I'm a Jesus believer, but that doesn't mean I can't have fun

).

I'm a homeschooled teen, and the oldest of 11 children. I love my family and my animals, and all of my BYC friends!!!


It ain't religion. I've been forgiven!




Come and chat with us at Swan's Pond!!


https://www.backyardchickens.com/threads/◇diamondswans-phenomenal-chat-thread-◇.1216005/#post-19408370




Nominate those special members for a BYC badge!!


https://docs.google.com/forms/d/1pr-EWXuMRP3tbXzVbMyYcz3qytv1LHPMFSlsqgtFFWw/viewform



My Very

B

e

s

t

B

Y

C

F

r

i

e

n

d

s

!

@Cluckcluck1215

Kyndra is very kind and sweet, and an amazing friend. She holds a special place in my heart, and always will. Jesus gave me the opportunity to tell her about Him and His love for her, and now she is my sister through Christ!!! It was a very special moment, and I will never forget it. Love ya sis!

@Lamaremybabies

Sophia has been my BYC friend for the past 2 years. We've had many conversations, and we have a lot in common. I love to see pics of her flock, and her 2 troublesome, yet adorable dogs. She has been an awesome friend, and I'm so glad that I had the opportunity to meet her!

@chicken4prez

I met Lily on the "What did you eat for breakfast?" thread. We both ate the same thing almost everyday so we have called each other "long, lost, twin sisters" ever since (despite the fact that she lives in Canada, and I'm in the U.S.

). She has been a wonderful friend to me!

@silkiecuddles

"Silks" has been a great friend to me. If it wasn't for her, I might not be on BYC anymore, and had the chance to make new, wonderful, friends. She comforted and encouraged me during a time when I was feeling down, and alone. She knew how it felt because of a similar situation she was in, and I'm so grateful that she was there for me. Thanks, Silks.

@Mountain Peeps

Sarah is my writing and photography inspiration. She writes amazing articles, and takes the most beautiful pictures! She inspired me to do the same, and now writing, and photography has become my passion! Thank you, Sarah, for inspiring me, and being such a good friend!

@MissNutmeg

"Meggy" is my very best Star Wars and barefoot buddy. She is fun and spunky, and I love chatting with her. She is awesome, awesomeness and awesomer (need I say more?). Oh, and awsomesauce.

*mesah hum Star Wars theme*

@Fanci Feathers Marens

Abby (who is actually a potato

)... Meh, she's alright I guess. I'm only friends with her because she "potated" me for a friend badge.

Actually, she's awesome, fun, creative and great to have around. I'm proud to call her my friend!

*

den Abby be like

but she weely like dis

*

@Flufferes

"Fwuffy"... ermm, I'm not exactly sure what she is. But I think... she's something like a chicken crossed with a hamburger. And there might be a little mayonnaise and asparagus in there, as well. But I'm not sure of her true heritage, so don't quote me on it.

Fank yous foy bein' mai fwend, Fwuffy.

@Hybridchucks

"Tovy" is my Brit friend, who loves tea (I'm only assuming because she's from England

) and is sweeter than a cup of tea with a million spoonful's of honey (or lumps of sugar, depending on what term they use now days

). I'll just say she's sweeter than a cup of tea with a million spoonful's of honey and an extra million lumps of sugar to simplify things.

@TamingMaster

Shannon (another Brit) is awesome, fun and friendelicious (you can't eat her, though -- only I can do that

). She is fun and interesting to talk to, and a conversation with her never dies. She has the sweetest little 'Tiels, hens and doggies, and I love to see pics of them. She is a great friend, and will be to the end.

@Jetblack2004

And yet another Brit friend (we all get along so well because I'm a quarter Brit

). Sammy is so sweet and kind, and was from the beginning. I'm so glad I met her, because she's an awesome friend to me and always will be.

Hope to have many more conversations!

@Better Than Rubies

Cara was so sweet to me from the beginning, and I instantly knew she would be a great friend. She is so kind to everyone, and always has something nice to say. She is a true gem, and is truly better than rubies. Thank you for your words of kindness, and for being such a great friend.

@The Angry Hen

Kaitlyn Is also very sweet, and I know she'd be a great friend to anyone who wants to be hers. Thank you for taking the time to show how much you care, and most especially, the kindness you show to strangers.


@MysticChickens04

Grace or "Misty" is my meme buddy. We could just grab pics off the internet of funny chicken quotes and send 'em back 'nd forth all day without sayn' a single word. Good, times... Good times. (And BTW, I think I won that meme war with the ostrich one

).

@HeavensHens88

Sarah is another one of my barefoot buddies. "Shoes are material barriers in the way from you truly connecting with life in its fullest." ~HeavensHens88

And it's sooo true!! "You're not truly standing on the earth if you have shoes on your feet." ~DiamondSwan

She is also very good friends with my friend, Kyndra, and anyone who is best friends with a friend of mine, is my best friend, as well.

@RiverStorm

"Stormy" is cool, and fun to be around. She loves to read, write, hang out with her animals and other things that I like to do as well!! She is also very nice and a wonderful friend to me, and to others.

@Laodicia

Katie is an awesome friend, and an awesome mom. Kiddos don't stop her from RPn, and hanging out on the chat threads. #GoMom! She is also fun and quirky (and did I mention, awesome?!).

@Lozuufy

Reina is my counting buddy. We used to get together and just count all day on the counting threads. I don't know why, but there's something oddly appealing and satisfying about counting. I still think about you, my friend!

@Miss Lydia

Miss L. is awesome, and amazing. Whenever I had a birdie in need, she was there indeed.

I'll never forget it!! Thank you so much for being there to help. *BIG HUG*

@Julie Birb

Julie is awesome!! She is fun, kind, spunky and caring. Watch out, she immediately finds a spot in your heart and lives there forever.

I haven't heard from you lately my friend, but I know that life keeps you busy and on a continuous adventure. I'll never forget you!

@casportpony

Kathy is made of pure awesomeness!! She is a seasoned poultry owner, and very knowledgeable about pretty much everything! If you have any questions or have a bird with an illness or defect, Kathy is your go-to person. Thank you so much, Kathy, for everything you helped me with!

And last but not least, a tribute goes out to a special someone (who isn't a member here), who taught me the importance of friendship and that we become our true selves, and discover more about who we are when we surround ourselves with amazing friends, and stick together as a pack.

I just wanted to say something about each of you to show how much I really care, and just how awesome you all are! I thank God every day for all of you. Thank you all so much for being my friend!!!

And thank you BYC, for making it possible for all of us to make such wonderful friends, and meet people we would have otherwise never met. #BYCIsAwesome! Sincerely,
~

DiamondSwan

(aka, Destiny)

(Don't be sad if I didn't add you. I'm either still working on it, or I'm still getting to know you enough to write something creative about you. I like to be thorough with things

.)

Interact

Signature

~"All my hope is in Jesus. Thank God that yesterday's gone. All my sins are forgiven, because I've been washed by the blood."~
Proud mama of 8 Welsh Harlequin ducks, 3 Pekin ducks, 5 "Pequin" ducks (Welsh Harlequin/Pekin cross), 5 Amberlink hens, 2 RIR hens, 2 Ameraucana hens, a rooster that attacks everyone except me, 22 guineas, 10 cats, 3 dogs, 4 rabbits, 3 Cockatiels, and my Livestock Gaurdian Maremma Sheepdog, Shiloh (who I raised from a pup) that protects them all alongside me.

Loading...

Loading...