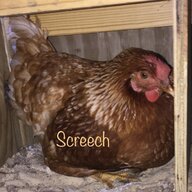 Gender:

Female

Birthday:

September 15

Home Page:

Location:

Occupation:

MKIBC, Gourd Artist, Chicken Farmer
drauntpam
Chirping, Female, from Brewton, AL
Expanding my flock this year to become a chicken egg farmer. Feb 8, 2019
drauntpam was last seen:

Jun 9, 2019
Loading...

Loading...

About

Gender:

Female

Birthday:

September 15

Home Page:

Location:

Occupation:

MKIBC, Gourd Artist, Chicken Farmer

Real Name:

Pamela Hébert

My Coop:

What's your main reason for joining our community?:

I want to learn about raising hens to produce eggs - from raising chicks to building housing to making an income from my adorable expanding pet family.

I got the chicks before the eggs!

This will be my second year of raising chicks. I got five 2 week old chicks from TSC last year on a whim - no supplies yet except the pine flake, feeder, waterer, and feed I got the same day. Put them all in a big cardboard box on the porch (one of them died the first night, another the 2nd, both due to being too cold - my inexperience). Next day I got a heat lamp, thermometer, and large plastic tub and moved them inside. Oh, did I mention I also got 4 more chicks? Yep! All of those survived for awhile - I had 3 RIRs that I couldn't tell apart and eventually named them Eunice, Gladys, and Hazel after my Grandma and her 2 sisters. My neighbor's dog ate Eunice about 2 weeks ago!

My purchases have included 2 Golden Comets (one died the first night, the other was my favorite, "Screech,"

she loved to be held and petted, but "disappeared" about 2 weeks before the neighbor's dog ate Eunice), and 2 Cinnamon Queens (one died 2nd night, the other is my next favorite "Cinnamon" who likes being hand fed but not held). I also had 3 Sienna Stars (Queen Cleopatra, Queen Latifah, and Queen Elizabeth) that have all have "disappeared", and 2 white Leghorns (1 more infant death) and "Miss Piggy." When they were about 4 months old I got "Professor Snape," a Black/Lavender Orphington Rooster who is simply magnificent! About a month ago I got "Henny" and "Penny," 8 and 4 month old Buff Orphingtons from HennyPennyInnHatchery (

www.facebook.com/HennyPennyInnHatchery

). So far I have purchased a total of 12 chickens and currently have only 7 left.

So . . .

I just ordered about 40 day old chicks to arrive in 2 shipments about 4 weeks apart from Hoover's. Can't wait to start having more eggs than I know what to do with!

Now for naming all of them!

I am in the process of expanding my run. I love my babies! By the time I'm finished I will have about a 1/4 acre run, which will immediately need to be enlarged. Also needing to build a bigger coop and set up a brooder station (now that I know what I really want to incorporate and am expanding into more of an egg production flock).

Interact

Loading...