If this is your first time on BYC, we suggest you start with one of these three options:

Not a member yet?

join BYC here

& then

introduce yourself

in our

community forum here

.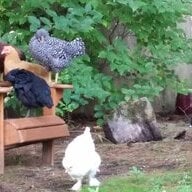 Loading...

Loading...

About

Interact

Signature

Chicken Crazy Wife, Mom, FT Student, and Suburban Wannabe Homesteader who is learning as I go​

1 Barred Rock, 1 EE, 1 Buckeye, 1 Cochin, 4 Red Stars & 11 chicks in the brooder!​

Never give up on a dream just because of the time it will take to accomplish it. The time will pass anyway. --Earl Nightingale​

Loading...

Loading...