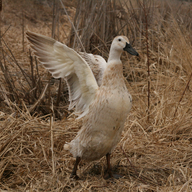 Loading...

Loading...

About

Interact

Signature

1 Mallard, 1 Buff Orpington, 1 Fawn & White Indian Runner, 1 Khaki Campbell, 1 Wood Duck,
1 Welsh Harlequin, 1 Rouen, 5 Crossbreed Ducks, and 17 Pigeons! First time incubating DUCK EGGS!!!
John 14:6: Jesus said, "I am the way and the truth and the life. No one comes to the Father except through me."



Loading...

Loading...