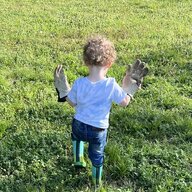 Gender:

Female

Birthday:

Dec 15, 1989

(Age: 29)

Location:

Occupation:

Warehouse Associate
Sammbalina
Chirping, Female, 29, from Shelby County, AL
I had a wonderful Birthday! My quail laid their first eggs! Dec 16, 2018
Sammbalina was last seen:

Apr 3, 2019
Loading...

Loading...

About

Gender:

Female

Birthday:

Dec 15, 1989 (Age: 29)

Location:

Occupation:

Warehouse Associate

Real Name:

Samantha

What's your main reason for joining our community?:

Advice and networking

Hey I'm Samantha, most people call me Sam, Mom calls me Sammbalina (I was obsessed with Thumbalina when I was little). I have always been fascinated with the Idea of living on a farm, and it is my dream to start a goat farm. I am about to start Quail, because as of right now we live in a neighborhood with a Homeowners association and can't have anything else. We are working on getting our house on the market so we can find some land so I can get other livestock. I have 3 goals for my farm, 1- goat milk products, 2- Work with local schools to promote 4-H and FFA programs, and 3-Work on the preservation of endangered livestock breeds.

I want to work with schools in my county, particularly the school I went to, because when I was in school they didn't do anything with FFA or 4-H. I didn't even know they existed until long after I graduated. Maybe if I had known about these programs I could have had an earlier start into farming, and it possibly could have influenced my parents decision in purchasing our current home.

My mom was my inspiration to start a goat farm. Actually, it was all her idea. She is actually allergic to cows milk, and one day jokingly said,"We should start a goat farm," and I'm running with it. My stepdad actually got into the farming mood, and started talking about getting cows and pigs. When I was looking into different cattle and pig breeds, I came across the Livestock Conservancy's website, and have had my eyes opened to the fact that there are several breeds out there that we are at risk of losing. I have decided that all of my livestock (except the goats because I fell in love with LaManchas a long time ago) will be from their lists. I am hoping to eventually work with Pineywoods cattle, Choctaw Hogs(if they are ever available to the public), Ossabaw Island Hogs, American Mammoth Jackstock, American Chinchilla and Silver Fox rabbits; Cayuga, Ancona and Magpie ducks; Cotton Patch and Roman Geese, Royal Palm Turkeys. I have yet to narrow down my chicken selection, but will probably also work with several breeds. My mom also wants to get sheep, so I will let her decide on that breed.

I always had a hard time in school, struggling with a misdiagnosis of ADD, which when in High School, we figured out it is actually a sleeping disorder. The ADD was basically a symptom of the sleeping disorder. I have what is called Idiopathic Hypersomnia. This roughly translates to unexplained, excessive sleepiness. No matter how much I sleep, I am always tired. This is why I work a manual labor job, if I am at a desk, I will be asleep (unless I am doing something that actually holds my interest, and sometimes not even then).

Interact

Signature

Impatiently awaiting baby quail to hatch around Halloween!

Loading...