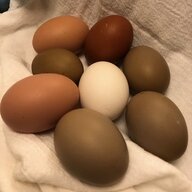 Loading...

Loading...

About

Gender:

Male

Location:

Real Name:

Kristus

What's your main reason for joining our community?:

To learn, network and help others on raising backyard chickens

Interact

Signature

Personally designed & built 10x12 Shed/Coupe, Run. Leghorns, Plymouth Barred Rocks, Silver Laced Wyandotte NEW: (4/21/15) RIR,
Plymouth Barred Rock,Black Copper Marans & Blue Marans & 12X24X7 Add: New run, NEW BABIES: (2/17/16) New Hampshires, Black Australorps, Amerecaunas, EEs, & Black Sex Links (3/16/16) Speckled Sussex, Easter Egger, & A Leghorn NEWEST: (1/16/17) Welsumers, EE, FBCMs, Buff, Salmon Faverolle, Orpington, Blk Crested Polish, Pendesenca,& Olive Egger

Loading...

Loading...