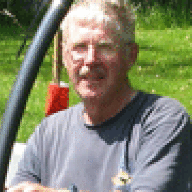 Gender:

Male

Birthday:

Oct 7, 1938

(Age: 80)

Occupation:

Retired HS math teacher
Loading...

Loading...

About

Gender:

Male

Birthday:

Oct 7, 1938 (Age: 80)

Occupation:

Retired HS math teacher

Real Name:

Jim

What's your main reason for joining our community?:

To help based on my experience raising chickens.

My wife and I live on 30 acres in the western Catskill foothills where I care for a 3200 sq.ft veggie garden, 100-plant blueberry patch as well as strawberry and raspberry patches and 2 cats. We currently have just 8 chickens (3 of which are roosters) 6 production red pullet chicks plus 4 guinea fowl. This past fall I lost over 2 dozen birds when raccoons and a mink got access to my coop and am in the process of rebuilding with 28 chicks expected from McMurray's in May. This may be the last time I brood chicks however. Much to my wife's disappointment.

I've been keeping chickens since I was in high school (4-H and FFA in mid 1950's) and continuously here since 1988. In my checked career I've also raised rabbits, ducks, geese and honey bees . I was an avid bird hunter and fly-fisherman(trout) since my teens and trained bird dogs for upland game hunting. At one point in the 1980's, had a fishroom with over 2000 gallons of freshwater tropical fish(at that time I wrote a regular column in a national tropical fish magazine). I also have a huge O-Gauge train layout, made and sold high-end wooden items, have written 2 novels and two nonfiction books on tropical fish and fly fishing. Last summer we added 23 acres of over-lumbered and abused forest that I am clearing and replanting with hardwoods and bird-friendly shrubs.

Fortunately my wife of close to 60 years(we met in Nov., 1959 and were married in June, 1960) has been very patient. I retired in 1994 after 35 years of teaching high school math. Last October I turned 80.

Interact

Signature

"To write is to think, and to write well is to think well."-- David McCullough
"A society grows great when old men plant trees in whose shade they know they shall never sit"

Loading...

Loading...

Loading...