Egg Carton Labels
9 Years

I am a full time web designer and full time mom for my 2 baby girls and 23 chickens. I love being a mom and love being a website and graphics designer. When I started to sell my tasty organic eggs, I looked all over the internet and could not find quality labels available. If I did find any, they were very plain and very unattractive – nothing I would ever buy to represent my eggs. So, I just decided to design my own professional-looking egg carton labels, and I'm now offering them to anyone who would like to use them for their eggs; to sell in a natural food store or at their local farmers market, or to give as gifts to close family and friends.
All labels are completely customizable. Every aspect of the label can be personalized - fonts, colors, images, etc. You can use photos of actual chickens, farms, eggs, etc. You can find free clipart in Microsoft Word or on the internet. Or, you can leave the customization up to me. The artwork in the sample egg carton labels on My Page are also available at no extra charge. All colors, and anatomical parts, can be changed in these images to reflect a certain breed - feather color, eye color, leg color, egg color, comb and wattle size and shape, etc. Label graphics and text are guaranteed to be straight and aligned correctly. I will not accept crooked or offset labels, and you shouldn't either!
If interested, please provide the following information:
1. Title (Curved or Straight; Color; Font; Location of Title)
2. Image (Rooster/Hen or Hen/Eggs or Your Own Image; Location of Image)
3. Additional Text (Font; Color; Location of Text)
4. Additional Specifications (There is no limit on Images or Text)
Labels are 3.5" x 5" (matte finish) and come in sheets of 4. They are sold in bundles of 10 sheets (40 labels). The cost for 10 sheets of 40 labels is $10.00, plus a flat rate of $4.75 (Priority 2-day) for shipping and handling anywhere in the United States. You will have a chance to see a sample of your personalized label for approval, before production begins. And, you will receive a delivery confirmation number to track your order. Please send me a message if you are interested or if you have any questions. I check my mail several times a day. I use PayPal for secure transactions. I also accept personal check or money order, for those who don't feel comfortable making purchases online.
Thank you for viewing and I hope to do business with you in the near future. Have a wonderful day!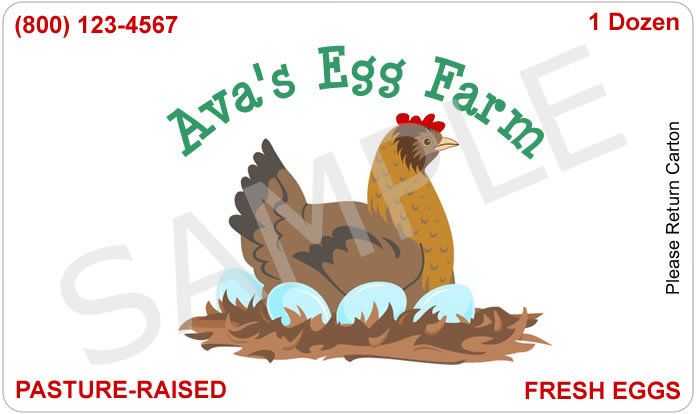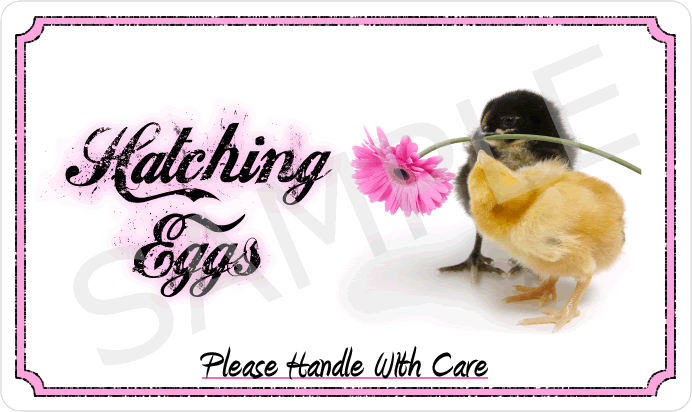 See My Page for more Samples.