I've been noticing lately that my 10 month old Buff Orp Ruby has been feeling a little skinny compared to the girls (all the same age)_ but today I really noticed it. I can feel her breastbone prominently all the way up and down, she has hardly any meat on her. I weighed her today and she barely hit three pounds. All the other girls are the same age, but are closer to five pounds. Even my scrawny EE weighs more than she does.
She is active and happy, comb looks normal and her eyes are bright. They free range in the backyard all day, only shut in at night. They have access to food and water all day and we give them treats often. I don't see any of the others picking on her. She lays lovely big brown eggs just a regularly as normal.
Just a bit worried. She is SO skinny compared to the other girls; I don't know if she's put on any weight in the past few months.
So, is this normal, maybe just a scrawny chicken, or is she underweight? If so, why and what can I do about it?
Many thanks!
And some pics:
Mom's foot for a size comparison.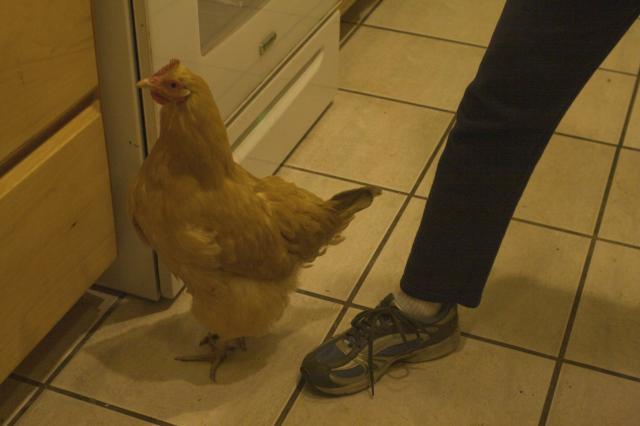 A close up of her face.