New chick dad with a couple questions.
I got 18 chicks last tuesday. they were hatched on monday 6/1. I've kept them in a spare bedroom in a 4'x3' dog cage with paper towels on the floor. I've been changing the paper towels three times a day for the first week and two times a day this week. They are eating and drinking a ton, which means pooping a ton. I've got a brooder plate designed for 15 chicks and they love being under it. I've got bantam cochin and standard polish, so I have the brooder plate with higher legs on the front and shorter. I also have a space heater in the room and I keep it about 75 all the time. I have the vents to the room closed so our air conditioning doesn't blow in there. They all seem to get along pretty good. What I would think is kind of normal pecking at each other every once in a while. Lots of running back and forth and trying to jump/fly. I have a webcam on them so I check it periodically thoughout the day.
1. Many times when I check almost all of them are huddled back under, near, or on top of the brooder plate. It's not for hours at a time. Usually a few of them are out running back and forth. When they are under it they are laying down nicely and appear happy. I plan on this weekend moving their cage out to a storage barn, which is pretty secure and stays a nice temperature all day long. Should I be noticing them spending less and less time out from under the brooder, or will they still continue to go back there even if the room is warm?
2. I tried this week to switch to using bedding vs. paper towles. I had purchased a block of industrial hemp and as soon as I spread a nice layer - about 2" deep they went nuts appearing to peck and eat it, scratch it about, etc. I left the bedding there, but for this week have been layering paper towels on top. When I move them to the storage barn I plan to not use paper towels at all. I figure they won't eat so much of it as to fill up, but is there any concern there about them scratching and picking it. will that calm down if I let them access it all the time. Right now a few of them will work all day and pick up the corner of the paper towels to get to the bedding.
appreciate any comments.
here are some example of a normal day when I look in on them.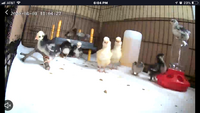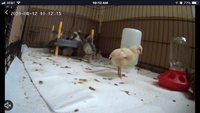 Last edited: