Apr 2, 2011
2,390
147
256
Currently, they are still inside because they are not all fully feathered- the oldest of the group (14 total) are almost 5 weeks; the youngest are 3 weeks. The aggressor is 4 weeks today.
I have not had a lot of chest bumping, but the two times, this bird has been involved. This is my mystery chick, which we think is a Blue Andalusian and perhaps a boy, since this was the only one that was straight run. I will try to take pictures again this morning, but here it is at two weeks and some change: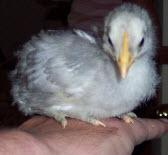 We had the birds outside all day yesterday because it was hot; brought them in when it started getting darker. Overnight they were fine; everyone adjusted back to the space just fine.
This morning, there has been noise. At first, we figured they were just racing around like normal; we have a wee bit of squabbling every now and then. After about 1/2 hour, the pitch changed from the "we're just being noisy" to "we're getting hurt! help!"
I stood and watched for a good ten minutes or so before removing the one- this wasn't even like mating- started out with the staring and pecking and then going for a mouthful of feathers, which were then eaten, and then moved on to whoever this one could get close to.
I know mating isn't a quiet event.

This, though, wasn't grabbing by the back of the neck and attempted mounting- this was pecking and pulling and terrorizing.
At this point, the offender is in a nice quiet place by him/herself (the old brooder). The other chicks settled right down and are now peaceful again.
So. Is this normal? Does this mean I have a roo? How do I prevent the girls from getting hurt?
TIA,
Tikki, a bit freaked out