Hello all. We like to free range our 7 hens. People keep telling us to fence them in but we're wanting to persevere and try and adapt the garden for the chooks!
Over these past few winter months the lawn has turned to almost mud.
Has anyone tried attaching hardware cloth mesh or grass protection mesh over their lawn to try and discourage the chickens scratching it? I know it's their natural behaviour but there will be plenty of other areas for the flock to do this.
I've read about some success but was interested to know if anyone had more insight?
December:
February: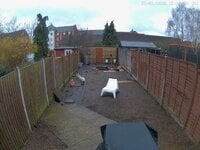 Thank you.