_This space intentionally left blank_
Aug 8, 2019
6,774
34,831
897
My Coop
Odd question for y'all.
What do you think is causing this development?
Fact #1: updated all apps a couple days back for my android motorola phone.
Fact #2: I use Mozilla 98+% of the time.
Fact #3: this is now the standard way a "new tab" for BYC *Only* opens on my phone.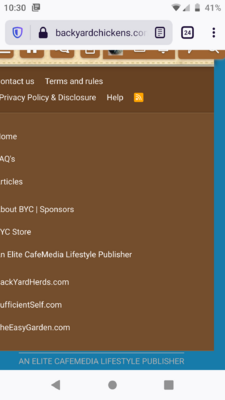 Any other details I can share? Thoughts? I find it kinda funny that this is happening for Only the new tab route.
If I close all BYC tabs and pause/minimize or close outright, the browser..... and then I open the 1st page and it's still opening "normal". However *only* this first main page opens this way.
If I try to go into the history & open any other BYC thread page it will re-open identical to the picture shared above.
I have cleared all cache several times. I have hibernated apps a few times. I have power cycled the phone (cold reboot) and (warm reboot) as well this week to no changes.
I do not have the BYC app & have only recently heard of it's existence.