For those of you whose chickens have had dry avian pox I have a question. My RSL, Ariel, seems to have dry avian pox. SO far it has followed the usual course ( I think), first I noticed white bumps on her comb and wattles, then the bumps got bigger and more wart like. Most recently they have started to turn black. Just now, she was on my lap adn I noticed that some of the bumps looked slightly bloody, almost as if she had been trying to "pick" them off. I know she can't actually pick them off, but if she rubbed her comb on teh ground or against something this might explain it. Do you think she did this or is it normal for them to look this way?
Here are some pictures I just took;
Side with black bumps and blood:
Side with no blood: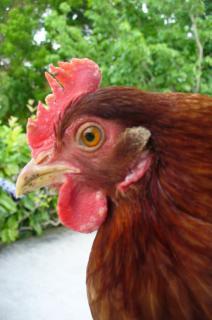 Back view of side with bloody bumps: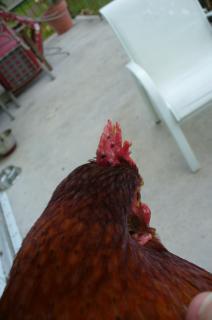 These are the best pictures I could get. Any advice would be great. Should I put neosporin on her bumps or just let it run it's course? What else can I do for her so she doesn't get worse or fall sick?
BTW, my vet here says you can't vaccinate them after they are 3 days old, so he refuses to do so for my other non poxed hens......