I have this chick who is now 10 days old. It is acting polar opposite of what I expect from everything I have read about these birds. Here's a picture from today-
This little one is from Ideal and is a pullet- I think. It's behavior is beginning to make me wonder. Along with another faverolle this little one shares a good sized brooder (chick n hutch) with mottled houdans, sultans and partridge silkies for a total of 10 chicks all the same age. I read that faverolles often have a hard time mixing with other breeds because they are such big pushovers. This little one didn't get that memo. Since day 1 it has ran the brooder. If there was something to investigate the other chicks had to let this one lead the charge. It seems to constantly be checking up on the other chicks and keeping them in line. At 6 days I noticed it chest bumping and kicking it's feet at one of the houdans. Those two continue to have these "sizing up" meetings often. They bump then stretch their necks and have a stare down. This one even often times ends it with a peck towards the eye of the little houdan. It also seems to have a complex about some of the other chicks getting tail feathers as it often walks around preening them and checking out their rears. Someone told me that pullets get tail feathers before roos, is this true? I'm hoping it's just a case of jealousy on this chicks part and her tail is not coming as fast because it takes time to grow such beauty.

When we added the roost this one was the first to try it out. It pretty muched claimed a spot near one end and has slept in the same place every day. It gets upset if someone is sitting in it's spot and runs them off. It is awfully cute though the way it's little head hangs over. Here's a picture, you have to forgive the quality, the red brooder light coupled with moving chicks confused my poor old camera:
Here is a picture of it with it's hatchmate, she's the one in front and I'm 100% sure she's a pullet. They look so different and with my bossy little ones attitude, I have to be one of those chicken novices and wonder if the hatchery sent me a roo on accident or do I just have a "mean girl" on my hands? I've never had faverolles so I don't have my own point of reference with this one. The picture is decieving, the two chicks are actually pretty much the same size in their body, it's the wings and tail feathers where one trumps the other. I know the actual tips of it's feathers aren't black but the coloring on it's little wings is so much darker and their development so far behind the other that I was just wanting opinions on what is up with this little bird.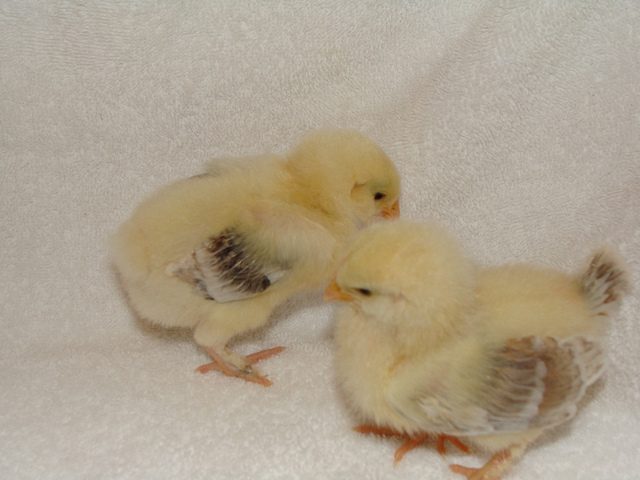 Thanks in advance!
Last edited: