Hello,
I have been lurking on this site for over a year now, and I have finally had the opportunity to start my own flock. I am in the middle of building my coop/run and have gotten it to the point where I would welcome commentary. I started one of the coop building pages - so I don't want to put it all in this thread (redundant no?) unless that is standard practice.
Here is a good shot that shows you the inside of the coop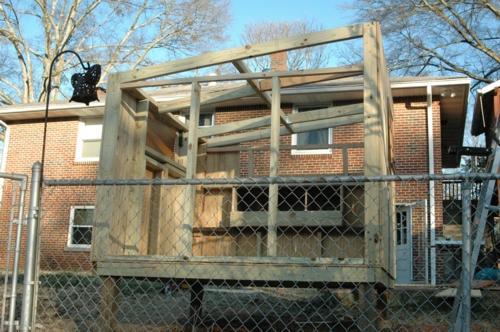 this wall has since been closed in, but I attached the bottom 2 ft of siding with hinges so the entire lower third of the wall opens up for cleaning.
I plan on putting the roosting bar running parallel with this wall across the width of the coop. I was planning on putting in a natural branch (because we have a plethora of branches laying around) are there pros and cons to using natural vs something like a 2 x 4?
This shows you the access for people and the wall with the nesting boxes.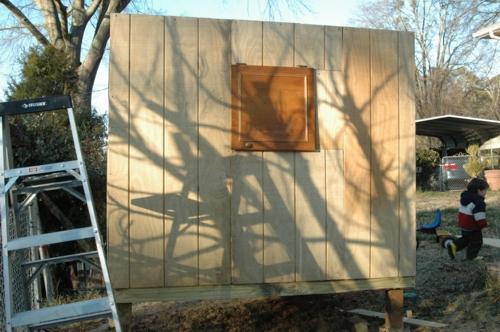 And this is the side that the run will be attached to. All of the brown doors you see will have hardware cloth attached on the inside to provide ventilation when they are opened.
I need to figure out where to locate the pop door on this side of the coop. Are there positives & negatives to locating the door? Should I center it or have it off to one side? What kind of ramp up to the door do they need? How big should the door be for standard chickens?
The roof will be standard metal roofing and I am planning a 2 foot overhang on the nesting box. The footprint of the coop 6 foot 4 inches square to leave me with a usable interior space of 6 x 6. I figure that I have enough room for 9 chickens - does that sound right?
And a final question. I have been considering making the run larger than I originally planned so that I have the ability to portion off a section of the run to make a "coop within a coop" in case I decided to hatch eggs, get chicks or get some bantams. I figured I could build one of the smaller, raised style coops (on stilts) and place it in the run with some chicken wire separating off space from the original run. Do I get to count the space under the coops as "run space"? Do y'all think I should go for the bigger run?
Thank you for your time - sorry for so many questions. I really look forward to hearing your thoughts, ideas and comments.
Last edited: