Hello,
I noticed some swelling in the right foot of one of our hens and quickly identified it as bumble foot (we have had a lot of rain recently and its pretty muddy). We treated it yesterday afternoon in our garage with a 25 minute epsom salt foot bath, then using tweezers to pull the scab/plug out. Then we put Neosporin on some gauze and used vet tape to bandage it up. She was back in the run after 2 hours. When I pulled the scab out, it didn't look too deep, and I was wondering if I actually got the whole thing..? I read that you can use Prid (a product for splinters) to help remove a bumble. I think that's our plan B.
That night she slept in the nesting box, and I think it was maybe because she was being bullied, or she was unable to jump up to the roosting pole.
This morning when I went to let them out, we changed her bandage and put on a new one. The injury honestly looked the same as it had when we had just removed the scab; still swollen, though less red, and I put on the new bandage. She pecked around for a while, ate, drank, and then I left the house for a few hours. When I got back I learned that she has been in the nesting box most of the day, puffs up when approached, and grumbles at other hens coming near. Her comb is bright red, her eyes are bright and she is responsive so I think that she's just being broody?? When I lifted her up slightly she didn't extend her legs, so I don't think she wanted to be moved. I gently poked her bandaged foot to see if it hurt but she didn't flinch.
I guess what I'm wondering is- Is she broody or in pain/sick? Did I get the bumble out or should I do another bath and some prid?
Here are some pictures of her foot and the surgery/procedure thing, sorry about the length here.
Thanks!!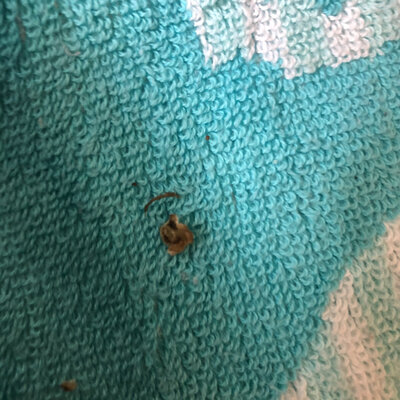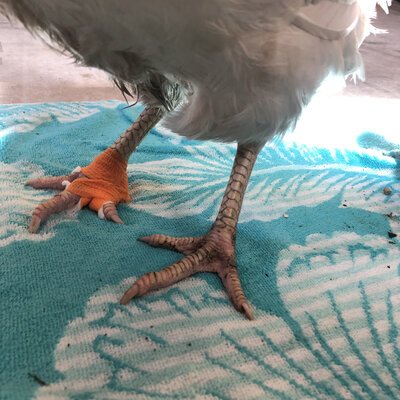 still