Apr 29, 2009
1,439
2,913
411
After watching one of my two Buttercups go in and out of the coop this evening, I realized she may be scoping out the nest boxes.
When I went to close the doors, I checked the nests, just in case and found this egg. It is a bit bigger than the OEGB and bantam Cochin eggs we are getting.
Could it be that one of my 7 standard breeds is finally laying? If so, she started yesterday. I thought is was just a big bantam egg.
Some of the ones collected today. Suspect egg this the biggest one.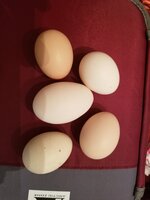 Same egg, with the one I got yesterday, and a bantam egg.