Hey ya'll.
Below is a link of the previous update and where I was at that point, and below that will be the continuation.
previous update:
https://www.backyardchickens.com/threads/blind-gosling.1369454/page-4#post-22585434
So 9 weeks of unemployment kicked in, and I was able to get the supplies I needed to finish building the Goose Condo, and I will get into the Condo after I talk about Crash & Bash.
Bash
He is starting to get an angel wing, so the wife and I have been wrapping it every day, but the two work together to rip it off, even going as far as getting in the water dish to get the tape wet. His right eye has an infection and we have been fighting to get it cleared up by getting droplets from the vet, and Terramycin ointment. The poor guy as of late has been falling over onto his back and not able to get up. I checked on them at midnight and he was fine and sleeping, then checked on them at 6am. He was upside down with a big pile of goose shit, so he had been there for awhile. He is scared to lay down right now and tries to sleep standing, thus falling over onto his back again and getting stuck again. Last night I stayed up with him out in the Condo all night to make sure he was fine. It was a sleepless cold night, but I had to be there for him.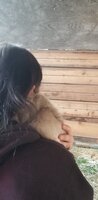 Crash
She is doing awesome. She walks around the goose condo like a T-Rex memorizing the layout and where everything is. She is a lil' wobbly, but we are making sure they are getting their vitamins and nutrition. When I slept in the Goose Condo last night I had an old patio furniture pad down where I was laying, and Crash was cuddling with me on it between my legs. This morning we set it up out if the way. She was making laps for like 30 mins, making big girl honks, then the wife put the pad down to see. Crash did her namesake and came crashing in like the kool-aid man onto the pad and was immediately asleep. I have spoiled that goose since she was a day old cuddling with her on the pillow. LOL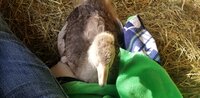 So we got them a swimming pool, and here are some videos of them swimming. Crash acts like a seadoo does doughnuts, its great. While Bash will go to shallow part, start bobing and fall asleep.
Some older videos of when they were younger
note: I still am not a 100% sure on their genders, and in one video I call Crash a boy, but I have stuck to her being a girl, so she can be my lil' princess.
Now the Goose Condo is pretty much done, just finished the outside run today. Im just going to post pictures of progress and then final product at the end.
Also on the outside wall there is a door that slides up, so they can go out into the run. I have latches so when its down lil' raccoon hands cant push it up, and when its its I have latches to keep it up and not let it become a Goose Guillotine. All in all not bad for winging, and damn rubber mats are spendy. After their first night in there and shitting all over them I decided to throw hay down for extra insulation and to protect my precious mats xD