i have a large dog igloo i am thinking of turning into a coop...it just has the entrance hole. do i need a second door to get to the eggs? i could reach into the thing and get to nesting boxes if need be.
the floor is plastic but has a little lip near the entrance that may make clean out difficult. perhaps remove the floor and replace with wood, or just saw the lip off so i could just sweep it out?
i was thinking i could make a removable run in an arch shape to match the shape of the door, extending out about eight feet.
there is a vent type hole in the roof, it is somehow covered so rain won't get in. how much ventilation do i need?
does anyone have any input? anything else i would need? perch inside the house?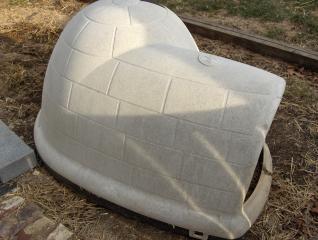 Last edited: