8 year-old DD has bantam chickens, and 6-year-old DS wanted to start 4-H this year with ducks. He's a little on the timid side, and since it worked well to start DD with bantams instead of standards to build her confidence, I thought I'd do the same for him. I located a 3-year-old white breeder pair of Calls from a very good breeder and am going to pick them up on Monday. I'm finishing up their pen/tractor this week, but am a little nervous about whether they'll be okay (these guys are kinda pricey compared to DD's bantams!). I've built a 3' x 7' pen with 1/2" hardware cloth sides and top. It sits on the ground with no floor, so they can eat grass and bugs and move to fresh ground each day. (I have 2" x 3" wire on the floor of the banty tractors, but I've heard duck legs are more fragile and I'd be worried they'd catch a leg in the wire.) Since there's no wire on the floor, I'm planning a 2' wide apron around the outside to deter digging predators. Bolted inside the pen is a sturdy plastic doghouse, to which I am adding ventilation holes (wire covered), extra spring catches to keep the top and bottom together, and a lockable door. My intention is to lock them into the house each night as additional predator protection. I bought an oil changing pan at Lowes for their pool. We'll use a crock-type bowl for feed, giving them fresh each day outside rather than having food and water in the house.
Does this sound like an okay setup? I confess I'm most worried about predators, and whether the ducks will be okay locked inside the dog house at night. I don't want to raise them in a raised, wire-floor pen though, I want DS to be able to watch them snorfling in the mud and looking for bugs and doing ducky things. I'm looking at them as his "starter ducks", so that one day he'll hopefully be comfortable enough with them to take over a little flock of bigger egg-laying ducks.
Here's a pic of the tractor, still in progress (still working on attaching the wire):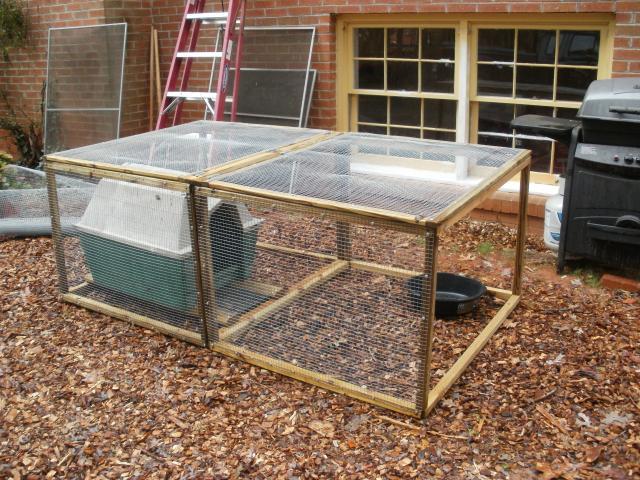 Each half of the top is hinged so we can access the dog house for cleaning and get to the ducks. The doors will be secured with raccoon-proof latches.
Last edited: