Hello,this group has been so helpful in the past I'm sending this out to you to help me figure out what is going on with my Silver Lace Wyanddote, known as Sue Ellen. She started laying eggs at about 16 wks , about 3-4 smallish eggs a week, now 24 weeks old. Egg laying pattern about the same until last week. She has stopped laying for about 4-5 days now. She has always had a bit of an messy bottom but it has gotten a some worse over the last few days-wk and I'm not sure if this is contributing to her problem. She is a bit of an indifferent girl, not overly friendly but not a chicken that avoids us either. She is the largest of 3 laying pullets but not the alpha. Anyway she has stopped laying, her behavior seems much the same eating, drinking, making chicken noises when we come up to the coop.
Other mitigating factors:
1) We have just started putting the girls back into the coop overnight, about a week now, they have been brought in at night to our back porch Lanai for about 2-3 months after a predator took one of the flock and we have been building a new secure coop. She layed 2-3 eggs and then stopped.
2) We are integrating our 4- 12 wk pullets into this flock which occurred quicker than we expected when the 12 wks olds got out of the internal pen in the coop and managed to begin the mingling themselves. This is going OK, she does not seem to chase after the new flock as much as the other 2
3) Yes I have changed up the food a bit, mixing all flock with laying pellets with the 12 wk olds now in the coop its next to impossible to keep the 12wk olds out of the laying pellets with out sequestering them again-they get oyster shell with their food Dried grub or crickets snacks about 2 times a week and veggies/fruit of the day about 2-3 times a week
4) She is an afternoon layer, and lays the egg anywhere she darn well pleases except in the laying bins in the coop house-so we go on a search and rescue mission to find the egg every time she lays and typically her egg is not as dense as the barred rock or Red Sex links
She is just one of those birds that do not seem to be stressed out, however she did not get the name Sue Ellen by accident, a bit of an instigator when she was a younger chick.
So no eggs for 4-5 days, her bottom looks messy to me (pics attached), I do not feel an egg in her abdomen and she does not fuss when I palpate, in fact she is very cooperative with this examination and I think she is ready for a Roo when i do this

I do not see her straining but I'm not out there all day So there is a new routine and new family members in the coop-can all this be causing her issues? The other 2 laying pullets have not missed a beat on egg laying routine.
Oh we also have a hurricane potentially coming our way...not sure if she is sensing that

Pics regarding her bottom (yes that's her poop below the bottom pic):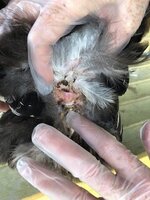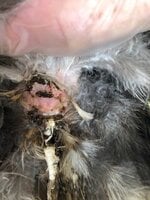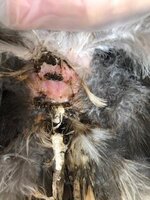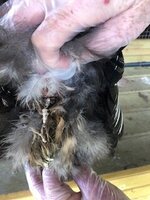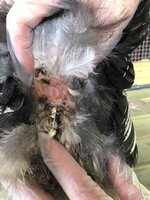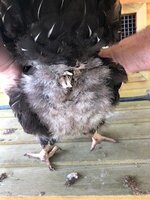 Please help
Kim