Dec 6, 2019
1,451
4,955
346
So this is my first time incubating eggs. I've had a broody do it before, but I have been wanting to have the experience of doing it myself. Over the weekend, I picked up a Nurture Right 360 and 18 fertile eggs. I set them today at about 6 pm. Here I'll be logging how it goes.
Here's the eggs I have in the incubator. They're from a barnyard mix of crested legbars, americanas, French black copper marans, leghorns, blue laced red wyandottes, ayam cemanis, and more.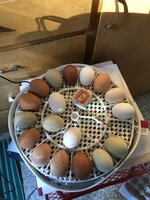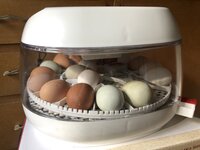 I'm so excited and nervous about this. I've done the research, I know what to do, but I still can't help checking on it every hour. I don't know if I'll be able to sleep tonight. I just can't wait.