Apr 14, 2011
1,179
222
226
28 day update (a few days late, we're actually on day 31).
The first 50# bag of feed lasted 19 days.
The second 50# bag of same feed lasted 13 days. I'm seeing a downward trend here that I'm trying to figure out how to reduce. (Fermented feed experiment here I come! Just need a second clean bucket - somehow my pair of clean buckets got used for a not-clean project (concrete mixing)...never dull!)
Weights: Average of 1#12oz for boys; 1#5oz for girls. Boys have prominent wattles and bright red combs - girls have same size combs, but are pale and somewhat reddish wattles, but not as pronounced. HUGE feet and thick lower legs. Very much enjoying flying and can now get up to a roost plank I installed in their mini-coop (20" off the floor, a 1x4" board). Fun to watch them use those flight muscles, as our Black Java layers didn't really ever fly very much. Feathers fully on legs and mostly under wings, bellies are still a bit bare. And the heads - what a hoot! I've got a whole bunch of mini-Einstein's! Wild, wild looks on these ones!
Moved outdoors into tractor on Thursday (29days old). They're doing great! They're nibbling grass, but not anything like our layers did at same age. I guess they prefer the taste of feed?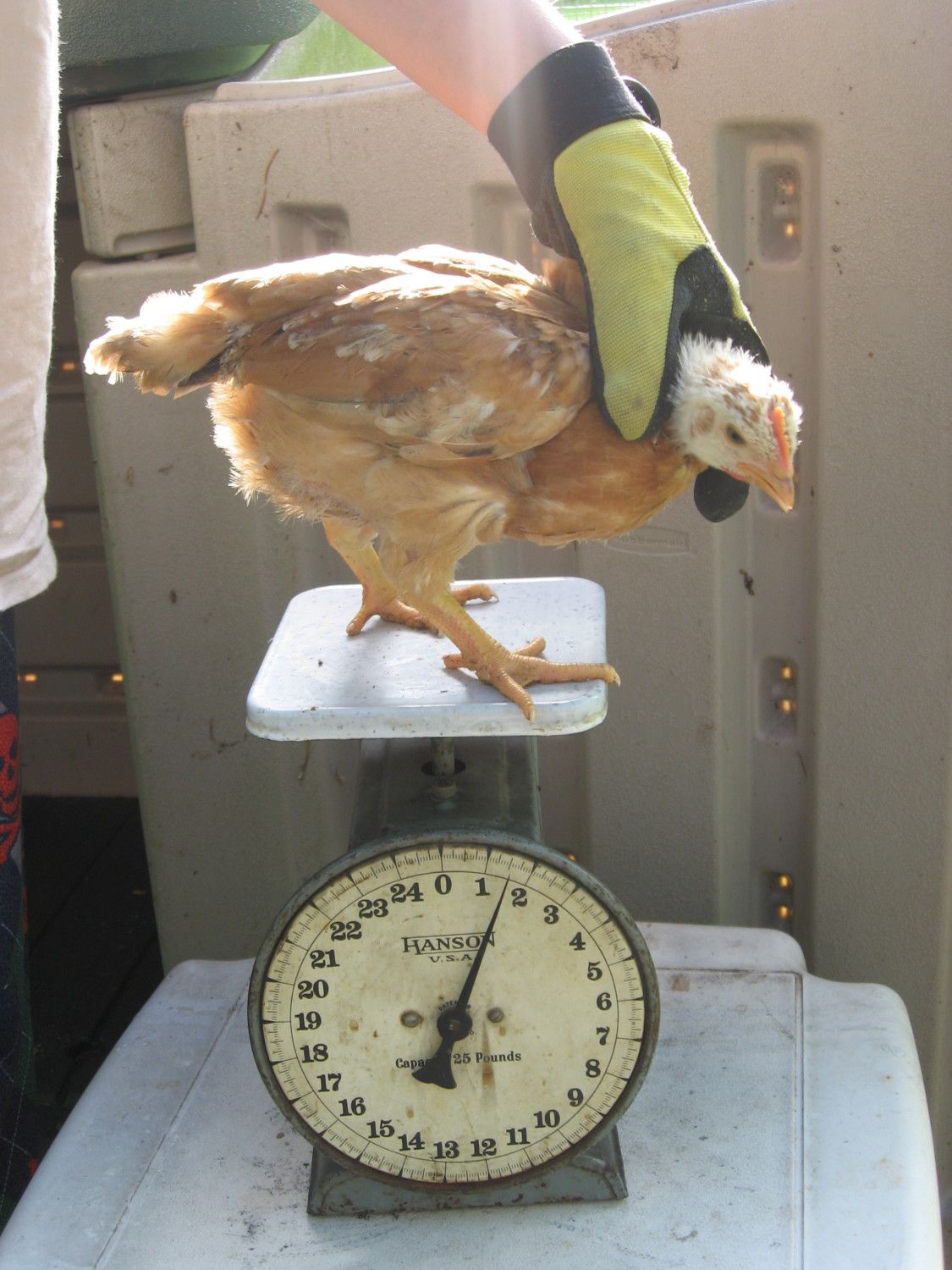 The tractor, a PVC structure tall enough for me to stand inside, is secure from predators for them to live in. But there is still some work for me to do in there to 'finish' it completely, hence the lack of images of it yet. However, the gang mobs me at the door! So unless I go in quick just after feeding to work in there, it's nearly impossible to work in there with them in there! I've learned there is a reason farmers wear Wellies - they've unlaced my tennis shoes countless times! Ewww - had to replace those shoelaces, twice no less! And got my wellies out as my new 'chicken shoes'! My layers left my shoelaces alone....go figure!
They are definately personable critters, as individualistic as our Black Javas - but I still refuse to name any of them or become attached. They're simply 'Monday, Tuesday, Wednesday, Thursday, Dinner, Dumpling, Stew, Roaster'....etc! My sons did name one, a striped chick, Chipmunk - he's a definate big roo - not sure how my 10yo will handle having him on the table. We've got a few more weeks to work that one through....
As our tractor is multi-purpose, and there will be layers in there next to merge with the existing flock (so they'll live in the tractor until at least 16wks old), we've built it a bit different than if we simply were using it for meaties. The little 'coop' inside the tractor still needs ventilation - right now, I'm leaving the doors open for them to wander at will and it works. But I'd like to get it 'finished' before the layer chicks need it in 6wks (getting 2day old layer chicks on May 20th, 4 weeks until they go outside means they'll go out a few days after these guys hit Camp Kenmore).
Will also need to either build a second tractor (ugh) or a larger fenced area for them to forage inside. 25 in a 8x8 tractor isn't going to last more than 10 days to 2wks...with 3wks to go beyond that! So, we'll put up a 'mini-run' for them to mill about it with the tractor being their nighttime sleeping area. I'm inclined towards the run instead of another construction project!
Our local hawks and falcons have discovered them. Which likely means the racoons and skunks have as well (but I'm just unaware of it). Another reason to keep these under tight wraps until a bit bigger. Thankfully, these chicks listen and obey our layer rooster - who warns when the hawks/falcons are about. They dive for their coop and all fit inside of it whenever he calls danger. It's simply amazing to watch! Took me a while to figure out what was happening, as all of a sudden, a squawk from Roaster (our rooster) and poof, they're all inside the coop! Seriously! Not a peep, not a complaint amongst them as they huddled in safety - dead silence. Then somehow, bam, they're all back out at the feeders, laying in the sun, cheeping, peeping, drinking at the waterers - like nothing happened! Very wild to watch.
However, I don't wish to have any of these end up in a predator's mouth instead of my families! So the planning of the run and such will be undertaken with the same care as for our layer flock. We just finished our perimeter fence today (420 linear feet of field fencing done!), so after finishing the mini-coop ventilation, THEN I can start work on the run for these guys. Mercy, it's a lot more than I anticipated! We'll need more t-posts and a gate latch, have left-over fencing and 4x4 posts - just need more of the energy to do it! But the fall 'batch' will benefit from all this labor now. They'll be well set! Which is good, as harvest time is somewhat more of a challenge than planting time. (Harvest means putting up for the winter too - planting is watering, which thankfully, my sons still enjoying doing for me).
Enjoy the days, for these guys grow so fast!