May 26, 2009
1,327
16
163
4 days ago we got 2 pygmy goats and we were told one if not both are pregnant. Im about 99% sure one of them isnt (a good thing, she's not super healthy, but thats another long story), but the other one... Im not sure.
I am new to pregnant goats, so any opinions would be much appreciated!
Heres some info on her (Sophie) - She's a pygmy goat, between 4 and 6 years old. Supposedly she had triplets last year sometime, but I dont know how long ago it really was. Guy we bought the goats from was kinda sketchy, maybe a animal flipper (another long story) so I dont have a whole lot of info on her.
She was kept with an intact male pygmy far at least 2 months, probably longer, before we got her, she was with him when we picked her up, so Im pretty sure who the dad of possible babies is. (good news, he was a tad smaller than her, so any kids shouldnt be too big for her).
Ive been searching the 'net for ways to detect pregnancy (without going to the vet for ultrasound, or buying the blood test kit) and found the 'pooch test' method. Now, since this is new to me, AND Im not sure how far along she may be, Im hoping some BYC'ers with some goat knowlege can help me out.
Here I am not holding her tail up and she was kinda pushing it down right as I took the pic- usually she holds it straight up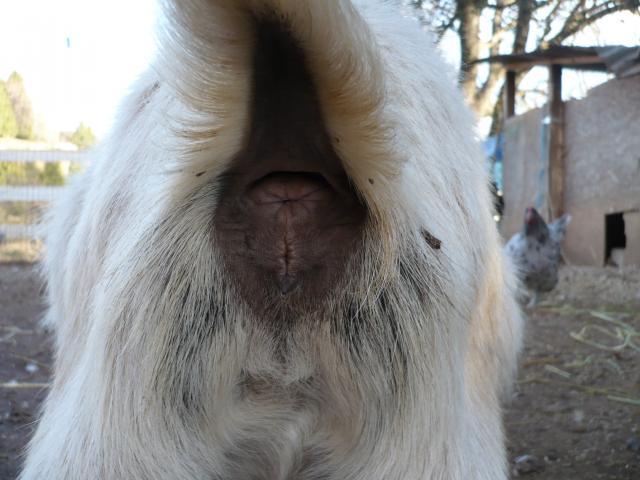 Here I am holding her tail up so you can see what the area looks like when she holds her tail all the way up herself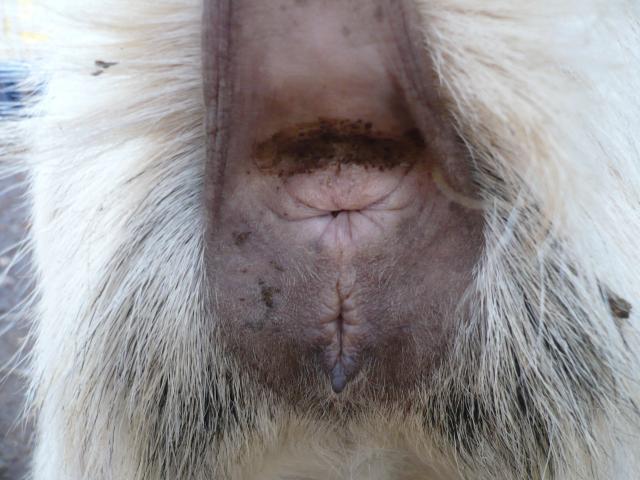 Here is her tummy from the top, I am standing behind her
I dont see any obvious udder growth, it just feels kinda swollen and slightly puffy, not flat to her tummy, teats are soft.
Soooooo, any thoughts?
I posted these pics on BackYardHerds, but its not as busy a forum and got only 2 responses.... Hoping for more input here!