Dec 9, 2016
1,415
2,470
357
Ok, so this is weird. All my other eggs hatched around day 18, which I saw as normal... Though I left the eggs in as a "what-if" scenario but didn't think would happen... Well, cue me sleepily walking up the stairs this morning to then hear little "whee whee whee"s coming from the brooder.
Confused I went to look, and saw
TWO
tiny fuzzballs darting about! I had checked it last night and there were no signs of them hatching.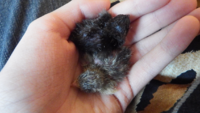 Not complaining though, I love the two new fuzzies.