Mama hen is hatching. She has been sitting in the nest box on 5 fertilized eggs, and has been sharing the nest box with other hens. (I've been grabbing their stray eggs.) Yes, it was a poor setup. Today, right on schedule, I heard peeps coming from under her, so I know there's at least one little peeper under her. But she won't let us see a thing. She just sits there, I'm afraid she'll smother this chick(s). I have the nest box area doors closed so now the other hens are having nervous breakdowns trying to find another place to lay. They are free rangers and have their pick of bushes tho, and I also have a nursery dog crate all decked out with hay and shavings, they could lay in there if they wanted to, but they don't make changes easily.
Anyway - what am I going to do if mama hen NEVER gets off the nest, and insists on keeping baby(ies) under her? I keep checking in on her, but she's aggressive towards me now. I will be needing to move mama and the chick(s) to the nursery ASAP, by tonight when everyone goes to bed.
I need a bigger coop with a bona fide brooder pen.
Okay, so how does one get a stubborn new mama hen and her new chick or chicks out of the nest box and into the nursery? Just put on a pair of thick leather gloves and start grabbing? Yikes.
UPDATE: Okay - photos. 4 fuzzballs (out of 5 eggs), but they're still under mama almost all the time so it's hard to get all 4, but here's 2-3 anyway. They're having their first meal, and mama hen is showing them how.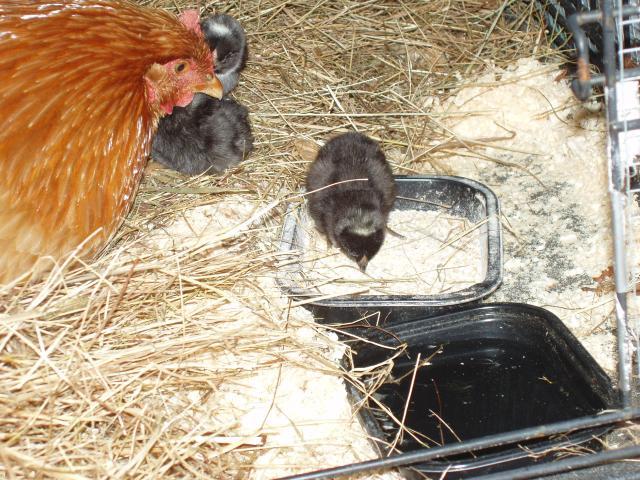 Last edited: