Hi y'all, I'm new to BackyardChickens & I just recently bought 6 Redstar hens a couple months ago. Probably the same reason a lot of people bought chickens recently. I used to have Buff Orpingtons that were big as turkeys. Then of course we rescued a baby deer, (Oakley) that had been hurt and the momma wasn't around anywhere. That led us on a search to find him a friend. It was winter so our options were slim but we found someone selling baby goats. So (Annie) was Oakley's new best friend along with the chickens. It wasn't as if we didn't have enough to do with our 7 rescued inside/outside dogs & 3 cats but now the start of a barn full of animals. Yes, we are gluttons for punishment.
. Well the sad part of the story is coming up now... Thanksgiving morning we went out and found that Oakley had passed away. Our goat, Annie was heart broken and crying a god awful, from the gut wail. It was terrible. So we searched, quickly for another friend for Annie. Enter our new big goat, Blue. We found her a friend, yea! We were soo happy & so was Annie. Oops we forgot about the birds & the bees talk that our Parents had with us. Next thing we know we have 5 chickens, Annie & Blue & 4 baby goats. Then the babies grew up and we had more baby goats...
I found backyard chickens when I googled to find out what vegetables our chickens can eat. I've known about for years but since I find myself with so many questions, I finally decided to join.
What are some of my other hobbies? Chickens, dogs, cats, cooking, making homemade dog food & treats, canning, crocheting blankets for friends & babies, gardening & always, always working on our 1907 home.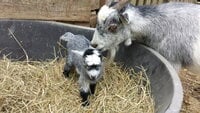 Here's a quick link to where to post your new thread with your intro info:
https
View attachment 2182382