I am so upset!! I am also posting this in a few different spots in hopes of getting more opinions...Last night I finally felt comfortable putting our (6) 7 week old babies in the coop we were working on, since I was afraid it was going to rain today. My husband went to check them this morning & 5 of them were laying in the floor dead. All of their necks were broken, what would kill them and NOT eat them?? The saddest part is was when he looked in, he found that our smallest chick Lulu was still huddled in the corner of the doll house that they had been sleeping in. Now she is all alone & peeping her lil heart out!
IF
I can find some, can I put more chicks with her?? She is going to be so lonley. I am 99% sure that she is a girl because she was the smallest of them all & she was very shy around everything, even treats. She is very calm & sweet and still pretty small. She can fit in your palm. What age buddies should I look for since it seems that she is a runt?
what do I do now
??
UPDATE! I found a lady that had some chicks for sale, but she only had chicks that were way smaller or way bigger than our lil Lulu so we gambled & bought 2 baby cochins in the hopes of her being so lonley that she would cut them some slack & NOT peck them to death....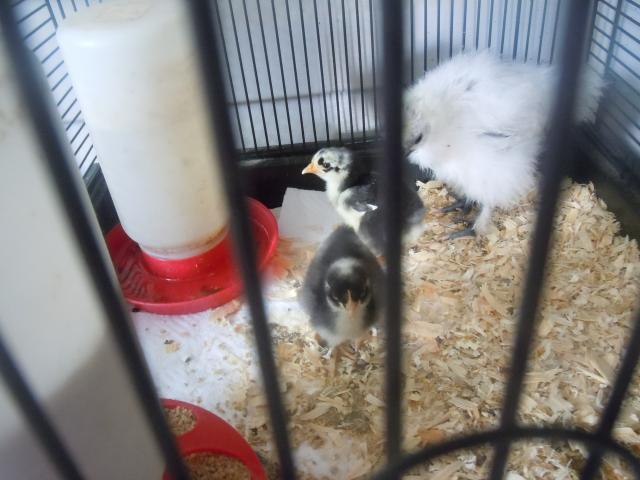 So far so good! She pecked at the smaller one once when we first put them in & then a little later, I checked & she would peck at it's beak but it almost looked like she was grooming her? After a few minutes they were running under her and one actually slept tucked un der her wing. This morning they were all still there & looked healthy. She actually kept trying to step in front of them when I took the picutures this morning.
If she was gonna kill them would she have done it already??
Last edited: