Right now I have 8, 3 week old chicks (likely 5 cockarels and 3 pullets) in a dog kennel, 3' L x 2'3" H x 2'W. Soon when I'm certain about the cockarel's I'll just have the 3 ladies. The kennel is great b/c I can slide out the bottom tray to clean it easily. There is plastic sheeting on top of the plastic bottom and I just cover it with pine shavings. The kennel has cardboard around much of it and chicken wire reinforcing the open parts. I've just sat the whole thing on a wagon so I can drive it off the back porch easily, take off the kennel, pull out the bottom tray and let the birds scratch around. Even though the heavy wire of the kennel bottom is there, it entertains them and they do get their feet in the grass. I've also got 2 roosts in their and they love that.
My question is this--what do you think, when I have just the 3 girls, if I put thin plastic/vinyl of some sort in place of the cardboard, put a plastic dishpan with shavings as a nest box on the completely enclosed side of the kennel and then just get a run to put outside where I can let the girls out each day for a while? I'll have to pull the wagon out to the grass and figure how to have the run so it's not a total pain to get the girls inside it...
The cubic ft for the kennel is just enough for 3 adult birds if you say they each need 4 cubic feet. It's not as much as I'd like them to have, but this has to be able to easily be on my screened in back porch where the outlets are and where it won't be noticed. I can also pull it into my large shed if need be.
Any thoughts or suggestions? BTW, we're in a very residential neighborhood and we have a privacy fence...so I'm thinking my main predator concerns are my own dog, neighborhood cats, hawks and snakes. Do you think I should be worried about anything else? I've never seen any fox or raccoons around here.
Thanks!
Here is a picture before I strapped this whole thing on top of a wagon...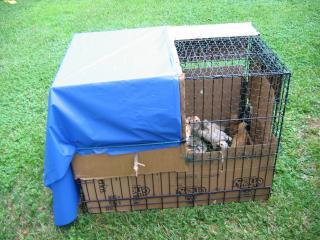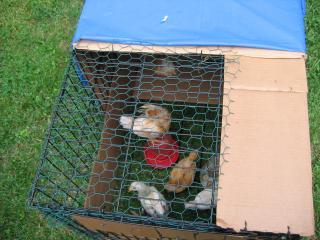 Last edited: