Feb 16, 2017
3,117
20,581
556
Hello,
So my mother came to me and told me that she heard weird noises from the chicken coop this morning. After going to a friend's funeral, I went out to check on my eight golden sex links. They are all hens. When I went out, I discovered that one of my hens has lost a massive amount of feathers. She is isolating herself from the flock, moving very slowly, acting very scared, when I tried to pick her up, she was clucking as if my picking her up was causing pain. When she jumped out of my arms and spread her wings, I noticed that her wings have very few feathers. Almost bare, to be exact. I would estimate about 60% of her Wing feathers are gone. She's standing on one foot very often, as if the other foot is injured. I don't know what attacked her, but I'm going to set up a time-lapse to figure it out.
She seems to be in pain, and I don't know what to do.
Does anybody have any advice on what I can do? If you need more information, I will get it.
Pictures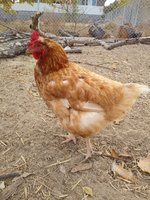 Any help will be appreciated,
Jared