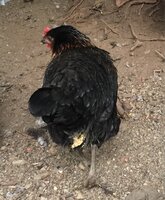 One of my girls appears to have a yellowish dirty bum. Is this vent gleet or is it something else?
We noticed it two days ago. First night I thought it was yolk as one of my 15 girls was laying soft eggs (not sure which of the 15). Hubby held her while I cleaned it off. Only on the hair. The vent looks normal and healthy. Then the next day it was like in the picture. My husband held her and I cleaned it off again. This is when I thought maybe it's more than a yolk so we gave her a tbsp of plain Greek yogurt and added 1/4 cup of Braggs apple cider vinegar to the communal 5 gal waterer.
Today is about 1/4 of the mess yesterday and the day before was. Tonight when hubby gets home we will clean her again.
What do you think it is? And should I be doing anything different?
No one else appears to have it.