This March I suggested to my husband that we take our then 6 month old son to the feed store to see the baby chicks. My husband found a hurt GLW with a broken foot that *had* to come home with us, along with three other tiny fluffs for warmth and companionship. The GLW was in very bad shape and passed away that night.
The other three, a Silkie cockerel with an attitude, a chatty Welsummer pullet missing any sort of chicken expletive filter, and a thoughtful, laid back Buff Orpington pullet I named Lulu - thrived despite our complete ignorance about poultry. They lived in a cat carrier for the first few days with us, complete with repurposed desk lamp.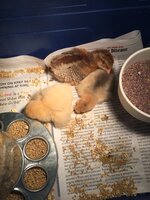 They graduated to a ginormous rubbermaid type tote a few days later, outfitted with a real heat lamp. I had done much Reading of the Internet, and decided to try my hand at fermenting feed.
My first offering of successfully fermented feed was rejected by the fluffs, who regarded the new dish with distrust...until gloriously determined Lulu picked up her fluffy skirts and investigated. She nibbled a little. Thought about it. Nibbled a bit more, and without fanfare climbed completely into the dish and happily began eating her way out. Incidentally, that goofball habitually stood in the fermented feed every day henceforth until she physically didn't fit anymore.
Lulu loved being held from the beginning. She'd preen and doze off in my hand or on my lap, sometimes she'd just sort of slump over in a ball of golden fluff.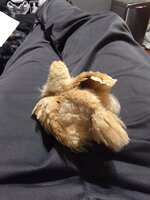 The chicks grew fast, and soon it was warm enough for them to sleep outside. I was terrified of predators, and put it off as long as my husband would let me. His compromise with me involved a little enclosed chicken yard and coop just outside the bedroom window for our six growing babies (Chicken math is absolutely real!)
We'd noticed that the others picked on Lu a bit in the brooder box, and by the time they moved outside, Lu had made up her mind that she didn't need approval or support from The Mean Girls to live her life. She just did her own thing.
Lu still loved hanging out with me, and was very curious about my tiny, featherless, loud baby. If he was asleep, she began cuddling up next to him.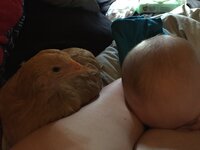 When we'd let the birds out for supervised free ranging, Lulu would amble around a bit, but frequently checked on what our son was doing. She even volunteered for a little road trip, and dozed off in my lap, face pressed into my son's carseat!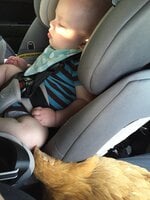 We bought our first house in June, a little fixer upper on almost three quarters of an acre. The giant backyard was fenced and full of opportunities to create a paradise for humans and animals alike. We installed a 5x8 coop and fenced in a big bird yard, which we dumped several tons of sand into to prevent mud. The dust bathing was glorious.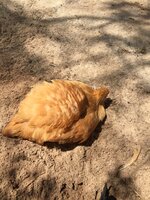 Lulu and the tiny cockerel began clashing with increasing intensity. His adolescent outlook was that all the girls needed to stay together all of the time. Lu didn't want to. She wanted to do her own thing. I hated seeing her stressed and miserable...so I began bringing her in the house while we were working on stuff...and Lu promptly discovered the joys of air conditioning and ceiling fans. She decided she very much enjoyed leaving the politics and social demands of Coop Life behind for a bit each day, and pampered herself with comfort.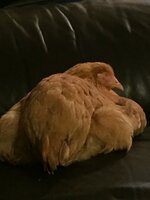 The clashes between the cockerel and Lu got intense enough that I physically separated them whenever we weren't on hand. She didn't hate him, just resented his determination to stifle her individuality. She would even dust bathe with him.
As Lu got older, so did our son. He got more mobile and became a host of unpredictable sounds and movement. Lu found him irresistible, and if she wasn't following him around, he was following her around. She was completely unphased by his crazy baby drama, and his loud baby toys.
She finds his crumbs and snack offerings utterly without equal. She can differentiate the subtle sound difference in the crinkle of packaging, and will forfeit every shred of dignity she has to gallop over hard wood floors like a drunk golden retriever in a chicken suit if she hears the freeze dried fruit and veggie package. She learned how to eat out of a baby food pouch (and showed the others). She is a shameless thief of teething biscuit pieces, and comes running when she hears the fridge open (which is nuts, because she's not fed from the fridge, but I guess she sees us eat food we take from it). But she loves being with him even more than she loves food.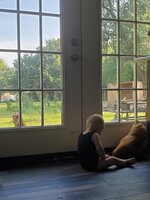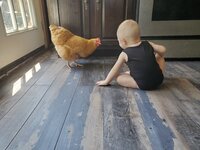 So knowing my girl, I wasn't shocked to hear her knocking on the back door a few days ago, asking to come in out of the heat. She seemed restless, and I wondered if she wanted to try to lay an egg. She snuggled up against my leg, and fluffed and fluffed the blanket on the couch. Our son screeching and laughing and babbling didn't bother her at all, but my middle aged blind dog made her nervous. She jumped off the couch and headed to the spare bedroom, ducked into the closet, and laid her very first egg. I'm still not sure whether she was more proud of the egg, or the fact that she laid it with the Divine comfort of central air!
Last night I went out to check on the birds before bed, and found a very fluffy, and very content buff orpington preening herself at the top of the ramp into the enclosed chicken tractor that the girls sleep in at night. Perhaps the nearly full moon enticed her out, or the soft late summer breezes. Maybe her inner golden goddess of chickendom beckoned her into the doorway away from her comfy roost to simply enjoy a perfect evening.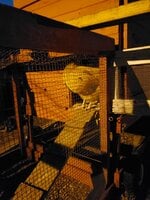 I love this crazy chicken! She may be half blind (her poor depth perception is what led to being picked on so much in the brooder), but her heart is absolutely huge. She's sweet, brilliant, opinionated, independent, and hilarious. She comes running when I carry the baby outside to check on them while they're free ranging. She has a special tone of voice she only uses to speak to my son...she's simply amazing to me.
I know many others have incredible girls too, and that this post is waaaaay too long. I just wanted to put my profound appreciation of this remarkable young raptor out there in the universe.