Background: We were given a box of ducklings the end of June, with very little information known about parents.
The Dilemma: The little fluffs are all feathered out now, and one in particular is stumping me. He was an unremarkable, solid yellow baby with two blue eyes (the only one), and I expected a solid white duck...which he is not!
His actual tail feathers grew in tipped in a copper color, almost like he's rippled, but not like any pictures I've seen. The feathers between his wings are tipped in a much more muted tone of copper. His wing feathers though, look like they were painted with watercolors in very subtle shades of muted copper.
The person who gave me the ducklings swears no lavender, but has three rippled ones. I'm new to duck genetics and Muscovies, but I'd like to understand what is behind his surprising and beautiful color!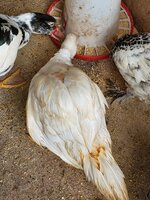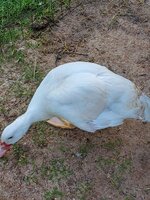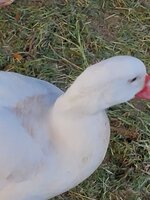 First picture is him while wet. I know he just looks dirty! I swear the smudges don't wash off!
Second and third pictures are of him while dry.
Apologies if this is pure ignorance on my part, I just can't find any other comparable colored ducks with my Googling.