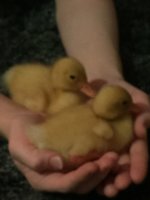 So You want a duck huh?!?
I always wanted a duck. I carried a porcelain pekin duck around as a child and just wanted one.
My wife decided to surprise me with not one but two adorable two day old Pekins.
Now when I said I wanted a duck I had no clue what that REALLY meant.
So I hurried and researched everything under the duck sun to provide for my new babies.
Even though they were a unexpected treasure, I couldn't be happier
I'm working on have my babies as loving as possible.
My goal is to have them as indoor at night outdoor during the day kinda enclosure with a pet door and such to the indoor enclosure.
So far we have mastered
Swimming,eating ,pooping (a lot )treats follow the leader cuddling and toys!
So all good things so far
Our baby boy daffy is so the boss even though he's only two weeks
Our baby girl daisy is so submissive.
They seem to get on well so that's exciting.
The only thing about her is she wines more at night (bedtime)for attention than he does!
Can't stop thinking about what else I can do to make them as happy as possible even though I've read their wants are pretty minimal.

Anywhooo just a intro to our new adventures
I'll stay updated with their activities