My beloved dog has been diagnosed with Lymphoma. I fear it has been going on for quite some time. Her leg swelled about three weeks ago and I took her to the vet who thought it was probably just an injury. The leg was still swollen when I took her back to the Vet this past Monday because all of a sudden, like overnight she couldn't see and was walking into things . Her eyes had filled up with blood.
Zoey has been my constant companion for the last nine years. Where ever I was around the house, Zoey has been at my feet. We have spent the summers in the garden, countless hours of walking and exploring in the woods behind our house. I don't think I have ever been to the coop without her. Zoey is an excellent guard dog (some might say aggressive

) and never had a problem letting people know that this is her house and her people and no one is going to mess with that yet Zoey has never once harmed my chickens.
In the beginning of the week Zoey was so not herself that I feared I would have to make a very difficult decision within a very short amount of time. While we have chosen not to go the chemotherapy route, we did put her on steriods. The change after 4 doses has been remarkable. Her leg has gone down as have the lumps in her throat. She can see again!
I know she isn't cured and that we have just delayed the inevitable. Has anyone here been through this? How long will the steroids help Zoey?
My Zoey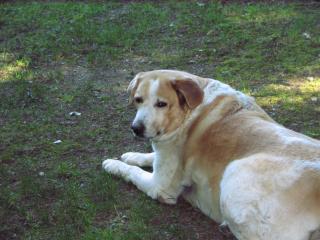 God, please give me strength.
Last edited: