Let me start out by saying my hens and roosters are very young I just got them this spring and they just started laying about June. I had one little bantam hen that was sitting on 6 eggs and all my hens had started laying under a building so who knows how old these eggs were for sure. Hubby bought me a Little Giant Circulated Air Incubator. We started out with 44 eggs a mix of Easter Egg Layers, Old English Bantams, A cochin hen and a couple of I really dont know what they are. I have a Rhode Island Rooster who is awesome by the way and a little bantam rooster that is just wierd looking. These are yard birds and I dont care who breeds with who. I have pure breeds but they are all caged separetly. I waited till day 8 to candle and then left everything alone till day 12. I used the dry incubation which still kept humidity 35 to 45%. The day before we were suppose to go into lock down we had our first bantam egg hatch oops. I am leaving them in until October 18th just in case. So out of 44 eggs we had so far:
17 infertile (I am not worried everyone was young and eggs were who knows how old)
13 Alive very healthy chicks
2 dead one that died when he came out and another that had a hip problem and died 3 days later
2 bad eggs yuck
1 hatching tonight
9 left in the incubator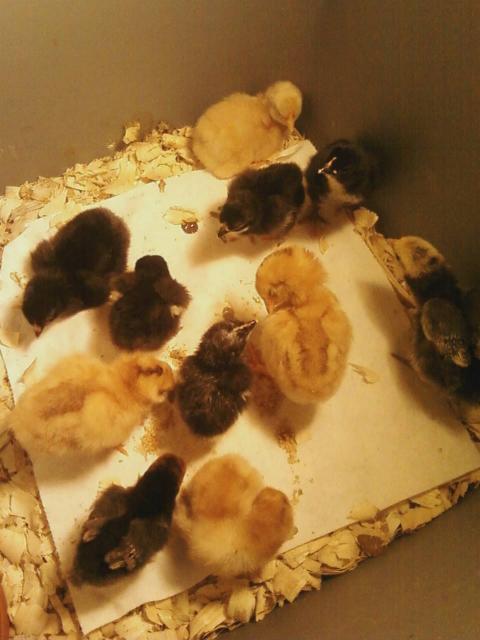 I already have almost 50 eggs more not sure what I am going to do. I only have 7 hens that are laying and they are laying around 4 eggs per day. Right now I have them stored waiting to go in. Hubby says hatch away we have lost a lot to the foxes, skunks, raccons and I am sure a dog or two. We are in a highly wooded area and of course chickens wonder into the under brush.