This is an continuation of my last post here:
https://www.backyardchickens.com/th...also-warning-pic-heavy.1278249/#post-20580651
Finally got home from Europe and put my chickens outside! They all turn 12 weeks old tomorrow (they hatched on a Monday). Let me know if you'd like better pictures.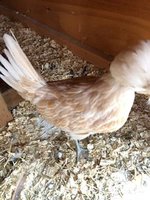 This is my BL Polish, hardly any sign of wattles but that crest is looking pretty rooster-y to me so far, plus those tail feathers. He acts like a rooster too, but no crowing.
Wyandotte #1 - All the white in this one has me concerned. Though I've heard that can happen with hatchery quality chicks. That comb also looks pretty red but the crest and wattles still look pretty small, I don't know what that horn means.
Wyandotte #2- This one's a little snot but I love her to bits.
Buckeye #1- Sorry for my finger in that pic

Buckeye #2- A jerk to all chickens but really sweet with humans.
Last but not least is my WCB Polish.