Hello, new member but have been browsing everything for few months and doing research on the great site.
I'm located in northern california (north/east bay area) Currently we have six dark Brahma pullets(I hope)...they are two weeks old yesterday.
First time doing chickens...daughters do FFA and they want to show them next year. This year they have other animals. I always wanted my own egg layers as I enjoy alot of eggs but also think I will enjoy the experience of having the little dinosaurs around.
I'm starting first coop build this week. Plans get more elaborate the more I delay so just going to get on it before they are ready to get outside.
Thanks for the great site!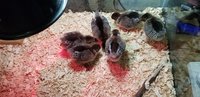 Last edited: