Hi, I'm really new to posting so please bear with me, I'm in the uk and I have 6 chickens which are around 6years old and 6 pekin ducks that are 9 weeks old one of them is disabled he was the last to hatch and he is slightly bent and twisted he can walk but falls over a lot onto his left side but he is a fighter and was not expected to live! he has defied all the odds and original expert option by getting up learning to eat, swim and walk none of which he was expected to do so he deserves a chance,
at the moment we are waiting on specialist help to enable him to walk better with less falls but in the meantime I'm am keeping him indoors, the problem I have is I need a duck nappy so he can come out of his cadge more often not just when he has a hydro sessions in the bath! can anyone suggest where I might be able to get some? and I'm also looking for a harness which I could adapt with a buffer so when he falls his wings are protected and he can get up again and go outside for a bit with his brothers and sisters.
hope someone might be able to help!
Thanks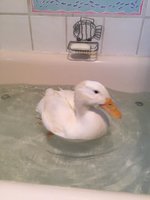 Nemo x
Last edited: