This was only my 5th rooster to process..
My first one was RIR and 10 months old..
This one was Buff Orp and about 4-5 months old (he had just started crowing)
I had originally wanted to keep him for breeding, but he was a real bad @$$ picking on the hens and everyone else except for my main RIR rooster who would run him away from the others..
He seemed to have more fluid in the body cavity than I'm used to..But I did wash it out some as I was skinning it..
This roo had more fat than usual..I admit I had been giving them scratch on the cold days since I heard it helps keep them warm..
We don't get -that- many cold days here since I'm in Texas..
He was far from lazy..
The heart and liver look normal..The gizzard maybe a little bigger than the other's I've "invited to dinner"
This picture shows the heart, liver, testicles and a pint sized mason jar for size reference.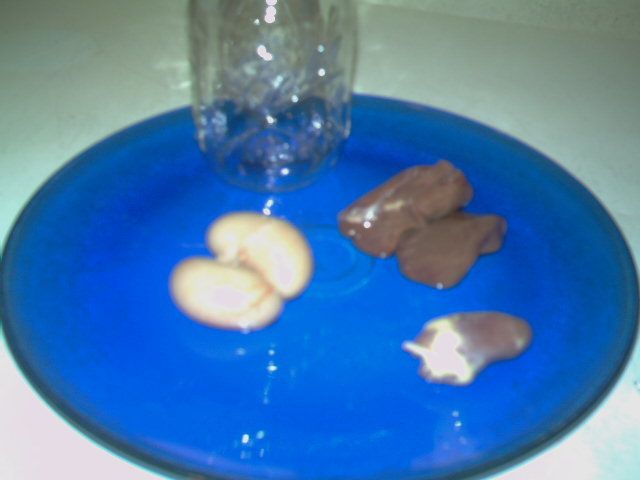 I did notice some light colored mites(?) in his feathers
I will be dusting the others in the morning as I let them out to freerange..
I use DE regularly, and have had sevin dust on the floor of the coop where they sleep for awhile now..
I have company coming from out of town tomorrow and wanted to have a nice chicken dinner (probably Monday evening)
He is an old friend..and if he had been in town when I processed my first roo..He would have been a big help cause he has experience in that area

So..All that being said (lol!!)
Should I cook the roo for my dogs, or it it safe for humans?
Thanks for any input

Edited to add picture
Last edited: