Hello Everyone,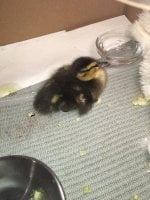 This is my first time posting on BYC. A friend of mine work at our metro water facility and always runs across situations where mother ducks lead their ducklings in to these water containment areas that they are unable to get out of. It's an unfortunate occurrence that they try to prevent. He found this little one sitting in the middle of the road way and discovered that the rest of the hatch had fallen in to a nearby tank and didn't make it out. Mom was no where to be found.I picked this little guy up from him on his lunch break today and until I can get home and put him under my usually heat lamp he is here staying warm in a temporary box at my desk. The questions I have are these.
1. How new is this little guy? He seems to have trouble holding his head up for long periods of time which makes me think he is less than a week old. He is also very wobbly when he walks.
2. What's the best way to make sure he is drinking and eating at such an early stage. I will get him unmedicated starter food in the next few hours. He has made one bowel movement since I put him in the temporary box.
I am an avid outdoorsman and usually avoid removing animals from their natural habitat, but this was a little different situation. Please feel free to share and all information. I love to learn and want him to make it.
Thanks in advance!