Alrighty...I'm suposed to have 2 Lavender Orp pullets, 2 Dominique pullets and 2 Golden Laced Wyandottes "who knows" straight run. Grain of salt (or a pound) - they're from a
Tractor Supply
weak moment with a 5 yo boy that loves chooks, so... I love my GLW hen so we were willing to take the chance adding them to our flock. All are a month or so old give or take a few days. Wee tiny when I bought them August 7th.
The big Dom looks roo to me...and is bossy and pecks and charges you. If it's a pullet she's gonna have a good chance at being a beatch. The littlest one is supposed to be Dom, too but sooooo wee tiny. Got them all at the same time, same shipment (supposedly) at
TSC
.
The GLWs are about the same size as each other. Pinkish combs but hoping they could be pullets??
The Lavenders pullets?
The wee one worries me. He/she is so tiny compared to all of the others. Less than half the size. Feathering (though not as much) and eating and pooping just fine. No pasty butt. Not bullied, bellies up to the feeder just fine, crop full throughout the day and empty in the early a.m. Scrambles around and busy just like all the rest. Was a little more likely to be warming at the seedling mat mama hen cave I made...for the first week or so.
I've done Corid just in case, Poultry Cell in the water, Nutridrench for wee chick once or twice a week (hates it). Free feed Scratch n Peck organic no soy/no corn starter (20-21% protein). They're outside in a pen on grass w feed and water on sunny days (has been rainy here this week though) for the past 10 days or so. Anything else I can do for him/her?
GLW 2. Lav 2
Lav 1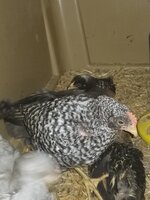 Mr Roo?
GLW 1
WEE ONE - DOM
Halp? Any info would be appreciated on wee chick and roo-ness of any if possible. I have another Dominique but my cousin brooded her with her chicks that time, along with my GLW and others, so 1 month old was not in house then.
Last edited: