Wow. I can't believe how fast my little spoiled baby chick, Ivory, is growing up. Today she is.....exactly 32 days old. Just about a month old already!
She has feathers growing out everywhere and I've noticed her high-pitched peeping once in a great while becomes deeper. Tonight while she is eating, she keeps making lower whistle/cheep noises, which just started happening a few days ago. I'm going to be sad when she loses her baby peeping voice completely.

And all her downy fuzz is going to go away. Although on the bright side, I can't wait to see what color she is going to be! I'm guessing she's going to be a Lemon Blue color...Right now, her face has a golden "mask" and her body is gray colored. But her new feathers that she has so far on her wings are a mix of gray/golden. She's a Splash Cochin/Buff Orpington mix, and the only chick that hatched from a test hatch (there were 3 eggs, 2 were early quitters). Now she lives in her own brooder box (except she shares it with her mirror and a small, white teddy bear...which really isn't too white anymore because she likes to sit on it and baby chicks tend to poop a lot.

) and she sleeps in my bedroom. I say goodnight to her every night and she's the first thing I see in the morning...mostly because he wakes me up with her peeping.

The bad thing is that if she's a rooster, I can't keep her. So far she looks like a pullet to me, but I'm not sure. It would really stink to have to sell her because I feel like I'm her mother hen (which she thinks I am) because I talk to her and play with her and care for her everyday and she likes to follow me around.

But anyway, it's amazing how fast they grow up...yet it takes forever for them to lay their first egg!

Here are some fairly recent pictures of her: (2-3 weeks old)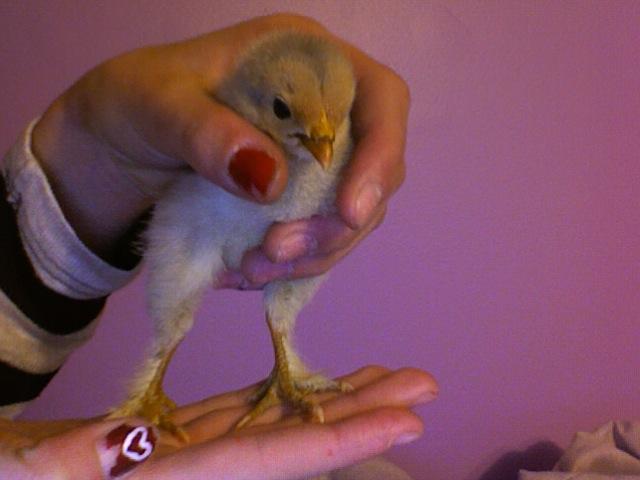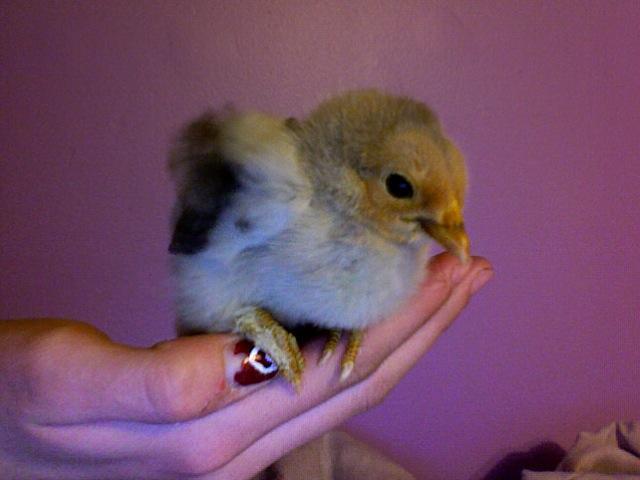 Feel free to share your own stories about your babies that are growing up! And feel free to post pictures of them!

They look so funny when they have feathered wings yet the rest of their body is all downy fluff feathers.

Last edited: