Aug 30, 2017
4,623
9,387
582
My Coop
So for the last few months I've been trying everything I could thing of to stop Sidekick from breaking and eating her eggs. At first it just happened about once a month then once a week. That's when I started messing with the nest box and elevating the false floor. Sidekick would never be fooled for long and even with a ridiculous angle on the floor she taught herself how to catch the eggs and bust them open and eat them.
In frustration I pulled her off the nest box one day and put her in a separate area by herself with just a kitty litter box with some straw in it and a roost and food and water. Well she didn't like that at all. I was talking to my neighbor about her and she said she would take her in. We have very different management styles so it was worth a shot.
I brought her over and placed Sidekick in the small coop the neighbor had prepared for her. She had to stay there a few days until my neighbor was off during the day to let her out and see what happened. Well Sidekick started talking to Britches (a rooster) through the coop wall and when she was let out well the photo tells the story.
Sidekick checked out the place then started hanging with Britches... so the big question was where would Sidekick roost that night. My neighbor went out after sundown to check her flock and took this photo.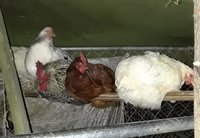 Sidekick was on the big girl roost next to Britches in between a couple of boss hens. We were both surprised that she did that. So now I'm happy, Sidekick is happy and Britches is really happy and my Neighbor is also happy.
JT